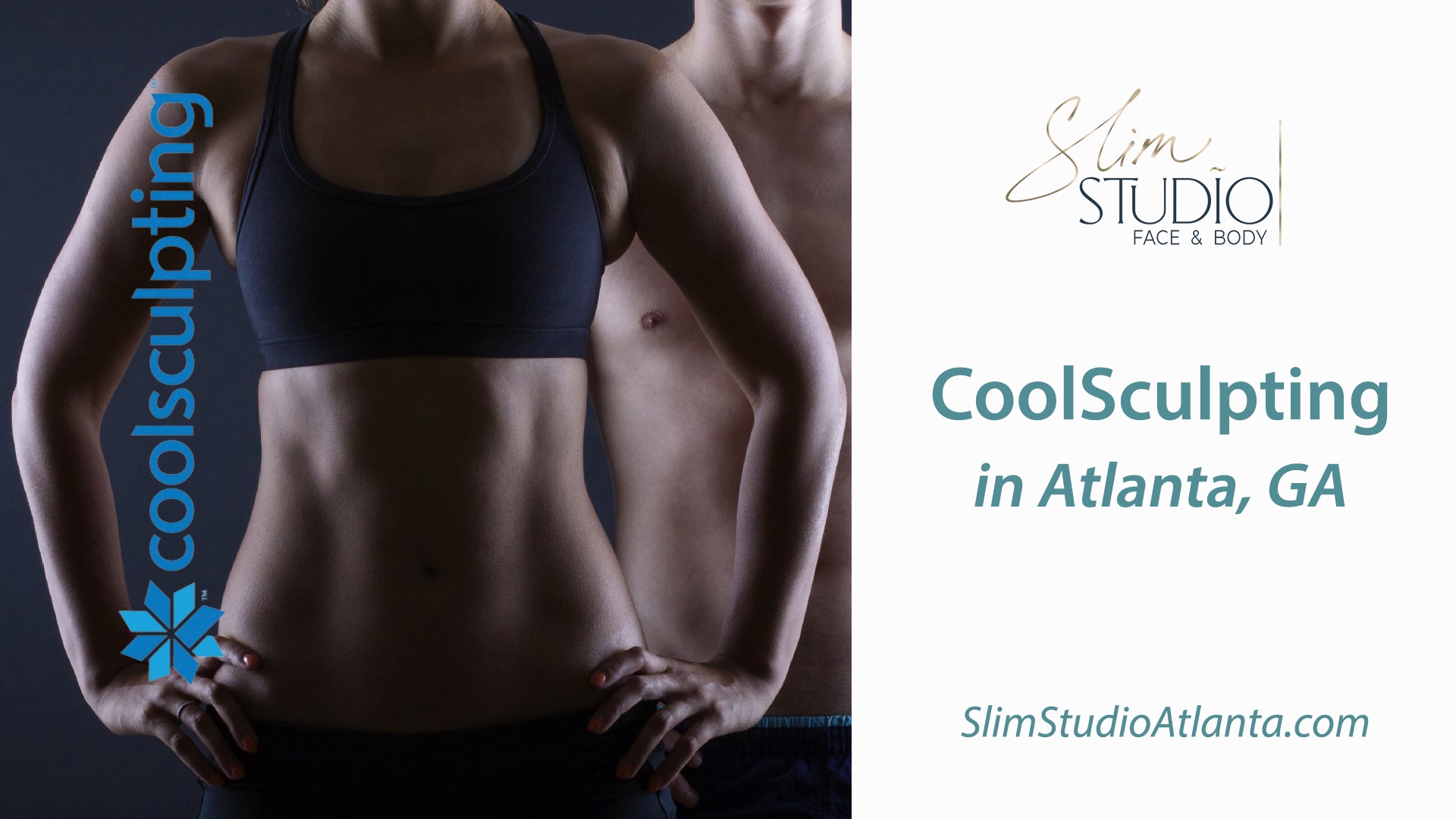 If you've been curious about Non-Invasive Body Sculpting, there is no better time to connect with Slim Studio Face & Body! We are Atlanta's leading provider of CoolSculpting, the most revolutionary, non-invasive fat reducing body contouring procedures currently available. And it's FDA approved!
Curious about more than CoolSculpting? With a visit to our practice, you can learn about additional non-surgical body contouring treatments like the amazing muscle building and fat reducing EMSculpt NEO. These two technologies often compliment each other. We also offer Facial Enhancement with Botox & Fillers.
What is CoolSculpting?
CoolSculpting is a non-invasive procedure that can reduce fat in areas that are resistant to diet and exercise. CoolSculpting is the world's first and only fat reduction procedure that employs cold to eliminate unwanted fat cells, resulting in the reduction of the fat layer. This creates a slimmer, more contoured body. This non-surgical procedure lowers the temperature of the area of treatment to minus 10 degrees Celsius. At this temperature, fat cells are injured and ultimately fat cell death occurs.
The body metabolizes these fat cells through the lymphatic system and eliminates them from your body through waste.
The result is a permanent reduction of the fat layer. No recovery time is needed, you can return to your daily activities immediately following your visit.
Slim Studio Face & Body offers DualSculpting, which requires two CoolSculpting machines to be employed, which cuts your treatment time in half. Time is your most valuable asset and we don't intend to waste it!
What to Expect during CoolSculpting
Because we pride ourselves on delivering excellent results, we employ careful patient selection. If someone is not a good candidate for treatment, we will not recommend the procedure. At your consultation, you will receive comprehensive treatment education where all safety information is carefully reviewed, all questions are answered, and you will know what to expect at each stage of the CoolSculpting process, from start to finish.
Now let's review what you can expect before, during, and after your CoolSculpting treatment.
Once you arrive at Slim Studio for your CoolSculpting treatment, we will take pretreatment photos. We use photography to document your progress to a slimmer body. This process is quick and comfortable.
Once we take your photos, the technician will review the areas for treatment that were identified during the consultation and assessment.
You will then be measured and marked for the precise placement of the CoolSculpting applicators.
The area is prepped with a special pre-treatment wipe to remove any lotions or oils. This adds a layer of protection to the skin. A gel pad is then placed on the skin, fully covering the area the applicators will come into contact with. The gel pad protects the skin from the cold.
Our certified body technician will then measure and mark the areas of treatment for applicator placement.
Next, the CoolSculpting applicators are placed. The applicators go on with a high vacuum. The vacuum pressure draws the tissue into the applicator cup, which is lined with cooling panels. The sensation of the vacuum is unusual; it is described as pulling or tugging, but not painful. If you are having a DualSculpting treatment, both applicators will be placed before the cooling process begins.
Once the applicator(s) have been placed, the cooling process is initiated. You will feel a decrease in temperature, which can be accompanied by tingling or stinging. You may feel slight aching. These sensations may feel odd at first, but approximately 6-8 minutes into the treatment, the area being Cool Sculpted will become numb, and the sensations will subside.
Our clients remain very comfortable during treatment. You'll be surrounded by pillows and a blanket with plenty of refreshments at hand. During the treatment you can watch Netflix on our big screen TV, you can read, or use your computer or cell phone. Some patients even nap during the procedure. This is your time, and we want you to be comfortable and relax!
How Long Does CoolSculpting Take?
The CoolSculpting applicators have varying cooling treatment times. Slim Studio has the newest technology in applicators, which are called the CoolAdvantage Applicators and are used in the majority of treatments. The most frequently used CoolAdvantage applicators have a treatment cycle of 35 minutes, but some have a longer cycle time.
For example, when we use the CoolMini applicator to treat submental fat (fat located under the chin), the treatment cycle is 45 minutes in duration.
Once the CoolSculpting treatment cycle is complete, the applicator is removed, and a two-minute massage is performed on the treated area. This immediate massage can enhance CoolSculpting results by over 50%. The treated area can temporarily look red and feel a bit firm, but it will return to it's normal state in just a short time.
After the Coolsculpting treatment is complete, you are able to go about your normal daily activities, including working out if desired. Expect to experience soreness and tenderness in the treated area for a few days up to a few weeks. You can also expect to feel numb in the area of treatment for several weeks. This is to be expected and normal sensation will soon return.
CoolSculpting Treatment Areas
Even with a good diet and regular exercise, many of us have stubborn areas of fat we'd like to be rid of. These stubborn fat deposits are exactly what CoolSculpting is designed to eliminate. The FDA has approved the following areas for treatment and if your areas of concern are on this list, you could be a great candidate for CoolSculpting.
For Our Female Patients:
Chin and Jawline
Upper Abdomen
Lower Abdomen
Upper Arms
Under the Armpit
Bra Line & Back
Flanks
Under Buttocks
Inner / Outer Thighs
Knees
For Our Male Patients:
Flanks (Love Handles)
Lower Abdomen
Upper Abdomen
Chin and Jawline
What is the Cost of CoolSculpting?
Everyone wants to know how much CoolSculpting costs. The answer is not always black and white. The cost of CoolSculpting is determined by multiple factors. Cost will depend on the number of areas you wish to reduce, the size of those treatment areas, the CoolSculpting applicators that are the best choice for you, your desired outcome, and where you live (prices vary regionally).
CoolSculpting prices can also vary depending on the location of the provider. Be sure that the facility that you choose has a board-certified physician as a medical director and employs experienced medically trained staff. Slim Studio Face and Body meets this criteria.
Time is also money. We can save you both, as we incorporate the DualSculpting technique in our practice. By using two CoolSculpting machines simultaneously to treat you, DualSculpting cuts procedure time in half, so your treatment is performed most efficiently.
It's important to note that everyone responds a bit differently to CoolSculpting and this can affect the price. For instance, you may need more than one treatment in certain areas. As additional treatments will always further reduce the fat layer, multiple treatments, as well as the size of the area being treated will both influence the price. The only way to receive firm pricing is to have a consultation with a complete assessment.
CoolSculpting for Women
With the help of CoolSculpting, you can achieve a figure that is slimmer and sculpted to your unique contours. Many women who have received CoolSculpting have felt a regained sense of youth and confidence.
After your treatment, you will start to see your body change within a couple of weeks, at which time you will get to enjoy the results of your renewed physique.
The team at Slim Studio Face & Body will create a customized CoolSculpting treatment plan that is specifically designed for you, as every body is different and unique.
With CoolSculpting you can address trouble spots such as:
Your Upper & Lower Abdomen
Your Back/Bra Roll
Your Arms
Your Flanks (also commonly known as "Love Handles")
Your Inner and Outer Thighs
Below the Buttocks (also referred to as the "Banana Roll")
A Double Chin
CoolSculpting for Men
CoolSculpting is FDA approved for the nonsurgical fat reduction for both men and women.
As a matter of fact, CoolScupting is the most requested nonsurgical body sculpting procedure by male patients.
With CoolSculpting, you can look forward to being able to target those troublesome areas that you haven't been able to reduce by working out and modifying your diet.
At Slim Studio Face & Body, our certified, professional staff can help reduce fat deposits in these areas:
Your Upper & Lower Abdomen
Your Flanks (also commonly known as "Love Handles")
Chin and Jawline
CoolSculpting Before & After
At Slim Studio Face & Body, we want you to look and feel your best, and CoolSculpting can make a world of difference. You don't have to take our word for it, look at the difference CoolSculpting has made for some of our patients.
Seeing is Believing!
Choose Slim Studio Face & Body experts for your CoolSculpting Treatments
All of the technicians at Slim Studio Face & Body have had advanced training in both CoolSculpting and EMSculpt NEO and are very experienced in these non-invasive bodysculpting procedures.
We employ professional medical technicians to ensure that you are getting the most professional and accurate treatment available.
We pride ourselves in concierge service, and each of the staff members is prepared to ensure your comfort in their experienced hands. They will help you achieve your optimal CoolSculpting treatment results possible.
Call us today at (404) 410-7777 or email concierge@slimstudioatlanta.com to schedule your Complimentary Consultation. Our professionals will listen to your concerns, educate you about our non-invasive bodysculpting procedures, answer all of your questions, recommend the best treatment plan for you and provide pricing.
Get in touch with us today and see what a difference Slim Studio Face & Body can make for you!