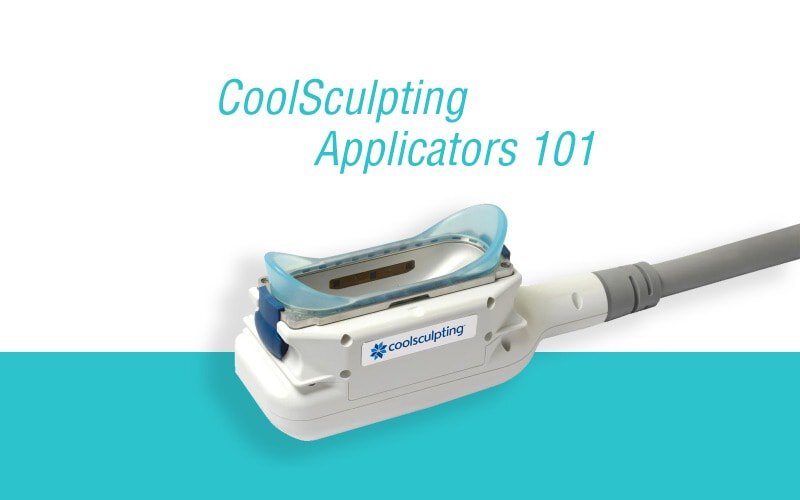 CoolSculpting just got even better! With the launch of the CoolAdvantage applicators, CoolSculpting now delivers even faster treatment times. This update in technology allows for greater patient comfort and shorter treatment times during the CoolSculpting procedure.
Here's what's so unique about the new CoolAdvantage applicators:
Instead of having two parallel, cooling plates on each side of the applicator, the CoolAdvantage applicators are designed like a cup, allowing for complete contact between the applicator and all tissues being CoolSculpted
With the new CoolAdvantage applicators, treating tissue at an even lower temperature and a shorter treatment time of 35 minutes has cut treatment time nearly in half.
Its new curved, cup-like design allows for less suction (while still freezing and eliminating fat cells just as effectively) and increases patient comfort.
Meet some of our most popular applicators:
The CoolAdvantage Petite applicator is constructed to reduce bulges under the upper arms and other petite areas of stubborn fat (we're talking about you, bra bulges and banana rolls) safely and effectively.
With its new cup-like design, The CoolFit Advantage applicator is ideal for areas such as the abdomen, upper arms, and inner thighs.
The CoolCore Advantage applicator is one of our most commonly used applicators, allowing us to quickly contour and sculpt the abdomen.
The CoolCurve+ Advantage applicator is designed to freeze off fat from those stubborn flanks. At Slim Studio, we can DualSculpt your "love handles" in just 35 minutes!
The CoolMini applicator is specifically designed for smaller areas of fat, such as the chin, knees, and axillary pillows, also known as "cami-fat."
The CoolSmooth PRO applicator is a unique, flat applicator designed to treat areas of non-pinchable fat, such as the outer thighs.
Slim Studio offers both the Legacy and the Advantage CoolSculpting applicators to assist in your body contouring treatment. Both types of applicators provide similar results but each offers unique advantages, and are safe and effective at reducing stubborn bulges of fat. Having both lines of applicators allows us more options to create the best treatment plan for each individual based on their unique body and fat reduction goals. We are one of the few Body Sculpting Centers in Atlanta to offer DualSculpting, so you can receive twice the CoolSculpting in half the time!
To learn more about our CoolSculpting applicators or to schedule a consultation, contact us today! We look forward to getting you started on your CoolSculpting journey to a Slimmer You!