CoolSculpting World's #1 Non-Invasive Fat-Reduction Procedure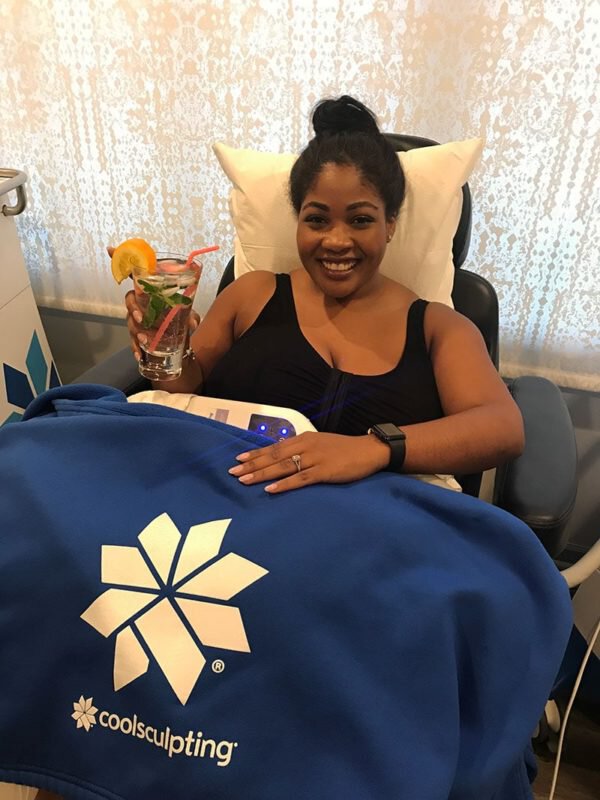 What is CoolSculpting®?
CoolSculpting is a treatment that can reduce fat in areas that are resistant to diet and exercise. CoolSculpting is the world's first and only fat reduction procedure that employs cold to eliminate unwanted fat cells, resulting in the reduction of the fat layer. It is a non-invasive, non-surgical treatment that lowers the temperature of the anatomy to minus 10 degrees Celsius. At this temperature, fat cells are injured and ultimately fat cell death occurs. The body metabolizes these fat cells through the lymphatic system and eliminates them from your body through waste. The result is a permanent reduction of the fat layer, and the procedure is safe and effective. You will experience no recovery time, and you can return to your daily activities immediately following the treatment.
Slim Studio is one of the few facilities in Atlanta that offers DualSculpting. Dual Sculpting requires multiple CoolSculpting machines which allow us to complete the CoolSculpting treatments in half the time. Your time is valuable, and we respect it.
CoolSculpting Candidates
Several factors are taken into consideration to determine if you are a good candidate for CoolSculpting. These include your weight and the type of fat deposit that you are concerned with. Also taken into consideration is your lifestyle; your diet and exercise do play a role in determining if the treatment is right for you. CoolSculpting is approved for specific parts of the body.
During your consultation and assessment at Slim Studio, you will learn if the areas you're concerned with fit the treatment profile of a good candidate for CoolSculpting.
Weight
If you are either at your ideal weight or close to your ideal weight, you could be a good candidate for CoolSculpting. "Close to your ideal weight" would generally mean that you are within 30 lbs. or 13.6 kg. of your ideal weight. This is not a "hard and fast rule" but more of a general guideline, as peoples' bodies come in all shapes and sizes and individuals can carry their weight very differently. Gender can also play a role in the decision about candidacy.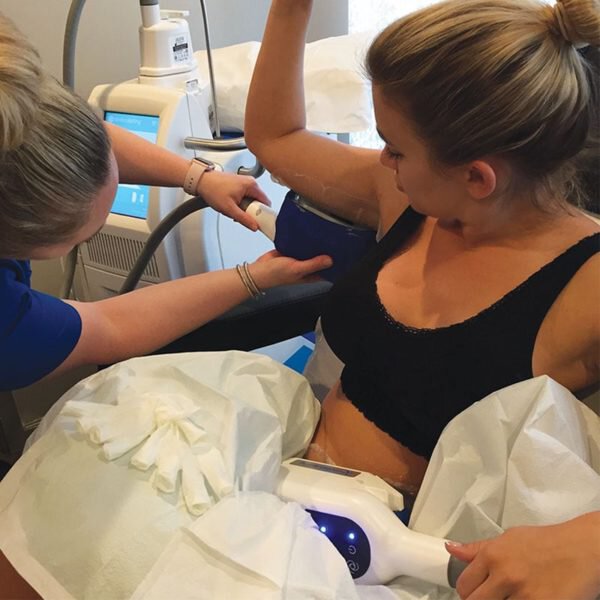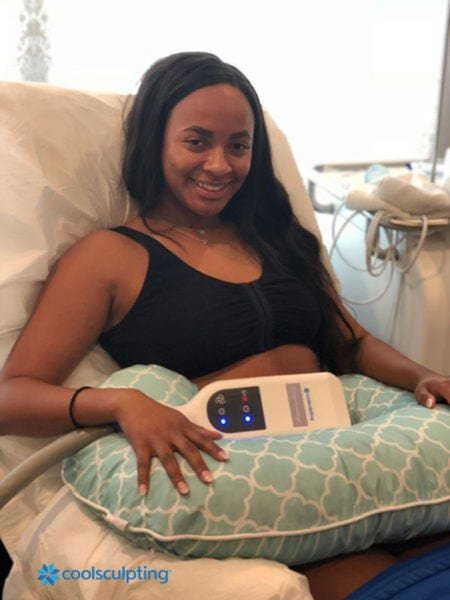 Your Fat Deposit(s)
CoolSculpting treats subcutaneous fat. Subcutaneous fat is soft, pinchable, pliable fat that lies directly under the skin. CoolSculpting does not treat Visceral fat. Visceral fat is "deep fat" that is stored further underneath the skin than subcutaneous fat. It's a form of gel-like fat that is actually wrapped around the major organs including the liver, pancreas and kidneys. During your consultation and assessment for CoolSculpting Atlanta technicians at Slim Studio can determine if you have subcutaneous fat that is treatable with CoolSculpting.
Diet & Exercise(s)
Having a healthy diet can increase your likelihood of being a good candidate for CoolSculpting. In addition, regular exercise is definitely a plus when considering a treatment like CoolSculpting.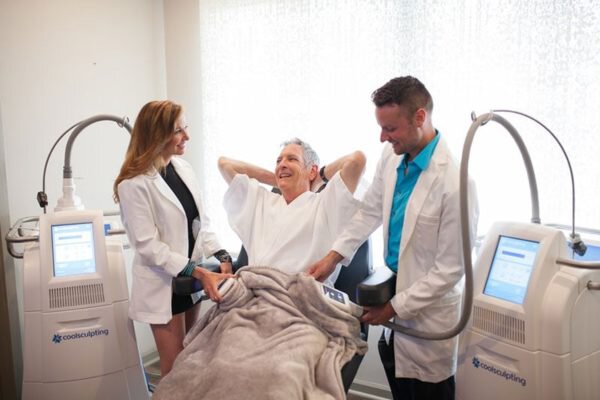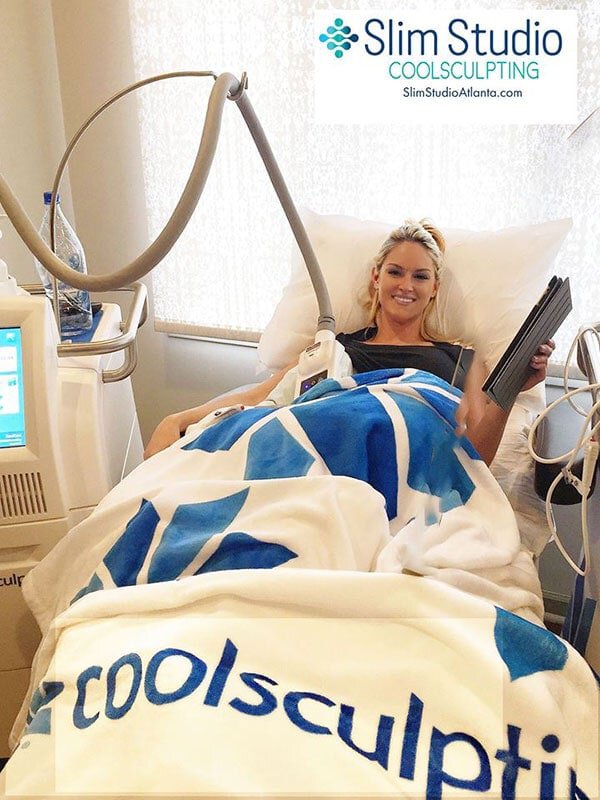 Areas of Treatment
CoolSculpting is FDA cleared to treat specific areas of the body. You could be a good candidate for CoolSculpting if your areas of concern are any of the approved areas for treatment. The abdomen is the most frequently CoolSculpted area of the body. The upper abdomen and lower abdomen are both FDA approved for treatment and can be treated separately or at the same time.
The flanks are the #2 area in demand for CoolSculpting treatment. Both men and women can have an excess fat deposit under their chin which can be minimized with a CoolSculpting procedure. Many women are concerned with excess fat in their inner thighs and stubborn bulges in their outer thighs. CoolSculpting can even reduce fat in the area surrounding the knee. Other areas that women may be concerned with that are treatable with CoolSculpting are arms, back, the area under the bra line, the area in front of the underarm and the area directly beneath the crease of the buttocks.
CoolSculpting is a fat-freezing procedure and is the only FDA-cleared, non-surgical fat-reduction treatment that uses controlled cooling to eliminate stubborn fat that resists all efforts through diet and exercise. The results are proven, noticeable, and lasting—you can truly slim down with Cool Sculpting.
CoolSculpting Assessing the Abs & Flanks
Your CoolSculpting Consultation
It's easy to get started on your Atlanta CoolSculpting journey to a slimmer you. Your first step is to schedule a consultation at our beautiful facility.
During your one-on-one consultation, you will meet with a CoolSculpting technician, who has had advanced training in the CoolSculpting procedure. We will take the time to discuss a holistic approach to your goals for sculpting and contouring your body. Your consultation is your opportunity to express your concerns with your shape, and allow us to create a plan to maximize the results of CoolSculpting for you.
You will also receive a thorough explanation of the science behind CoolSculpting and how the treatment is administered. All your questions and concerns will be addressed to your satisfaction by one of our warm and friendly team members. Your specific areas of concerns will also be thoroughly assessed with a manual feeling of the thickness of the fat layer as well as the application of CoolSculpting templates. Together, we will look at your body from different angles and then focus on specific areas of concern, ultimately creating a treatment plan that is unique to your needs. Wondering what does CoolSculpting cost?
What to expect during the treatment and all safety information will be shared with you during your consultation, as well. You will then have a chance to consider treatment dates if you've made the decision to get on the path to a Slimmer, More Sculpted You!
Call us today to set up your complimentary consultation. We look forward to meeting with you and seeing if you're a good candidate for CoolSculpting.
CoolSculpting Procedure
CoolSculpting treatment is generally performed without the use of anesthetics or pain medication. Once you and your practitioner have selected which areas to focus the CoolSculpting treatment on, a special vacuum device gently draws the tissue in that area up between two cooling panels. At Slim Studio in Atlanta CoolSculpting uses controlled cooling to target and eliminate unwanted fat. The body naturally processes the fat and eliminates the affected cells from your body. The treated area may feel cold for the first few minutes. This is completely normal. As your body becomes acclimated to the temperature this cold sensation will diminish. Many patients are able to relax or even read during their treatments. Typically a CoolSculpting treatment can be done in about an hour.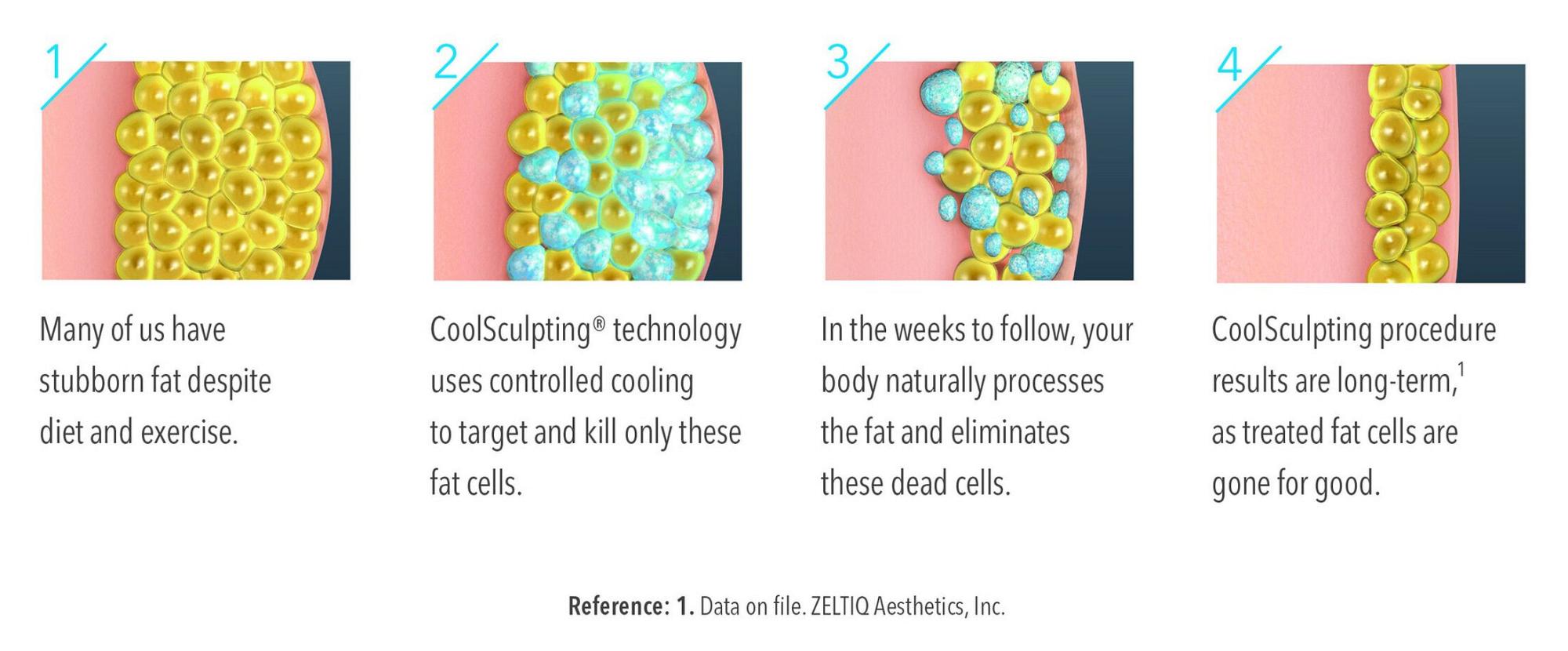 During Recovery
Following your CoolSculpting procedure, you will be able to return home. You should be able to pick up your everyday routines, without the concern of taking downtime to recover. Your results will not be instantly visible, but rather will appear gradually, approximately over the course of the next 2-4 months. Additional CoolSculpting treatments may be discussed if you find that you desire further fat reduction.
At Slim Studio, we strive to deliver some of the best body contouring Atlanta can administer. If you'd like to discuss your available options for CoolSculpting, you are more than welcome to contact us online or call our office to set up your complimentary consultation.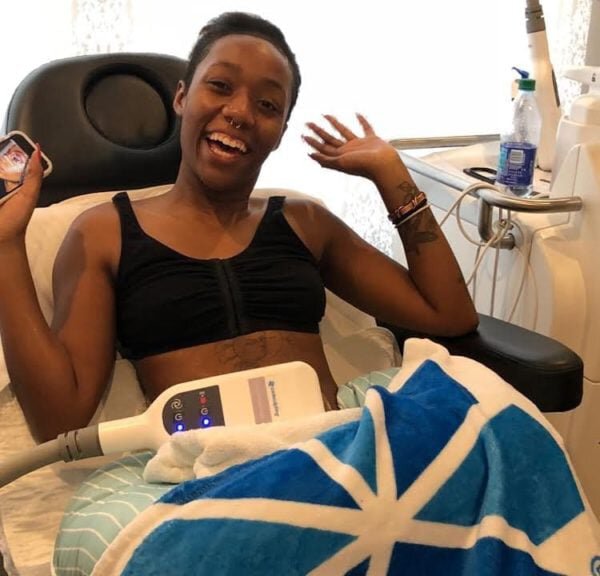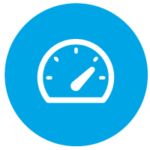 FAST
Your time is valuable! Slim Studio is one of the few facilities in Atlanta to offer DualSculpting, requiring multiple CoolSculpting machines, which is now considered the industry's gold standard. Offering DualSculpting has allowed us to treat more clients and more areas in less time, allowing clients to enjoy their body transformations sooner rather than later.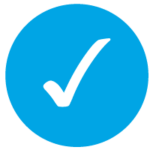 EASY
It has never been easier to remove unwanted fat from your body. That means, No needles, no knives, and no anesthesia. After treatment, you will not have to worry about any special diet, exercise program, or supplements. There is no downtime after receiving a CoolSculpting procedure, so clients can get back to their normal daily routines immediately after their treatment!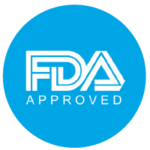 SAFE
CoolSculpting and DualSculpting have been FDA approved for the nonsurgical fat reduction in the abdomen, flanks, and thighs. It is the #1 non-surgical body sculpting procedure. Over 1.5 million CoolSculpting treatments have been performed worldwide.
Slim Studio Coolsculpting Patients in Treatment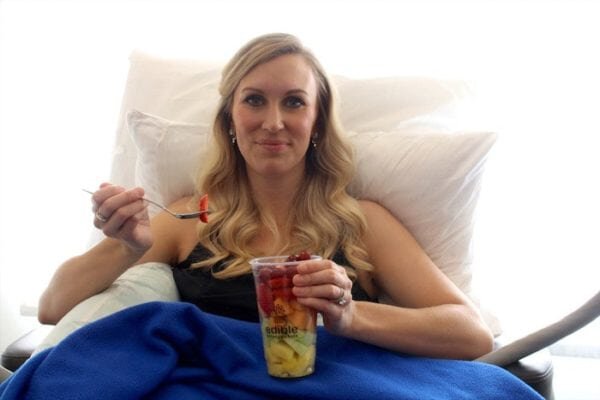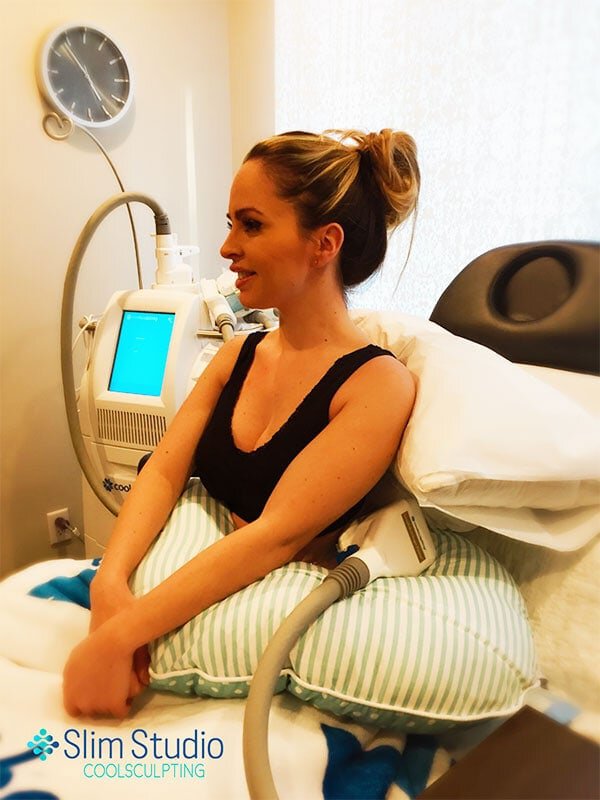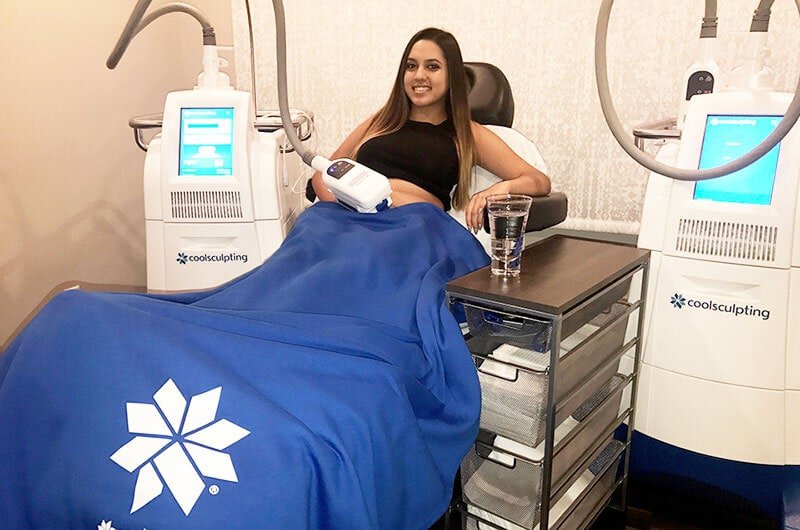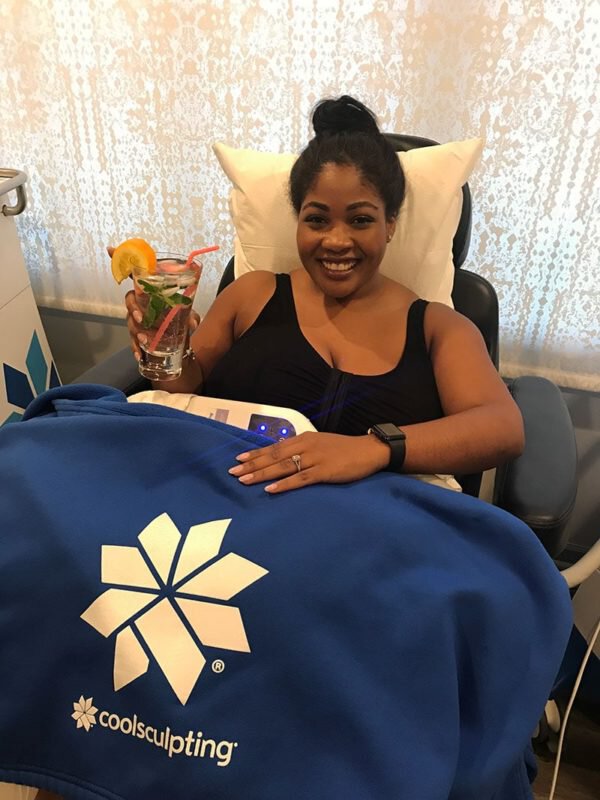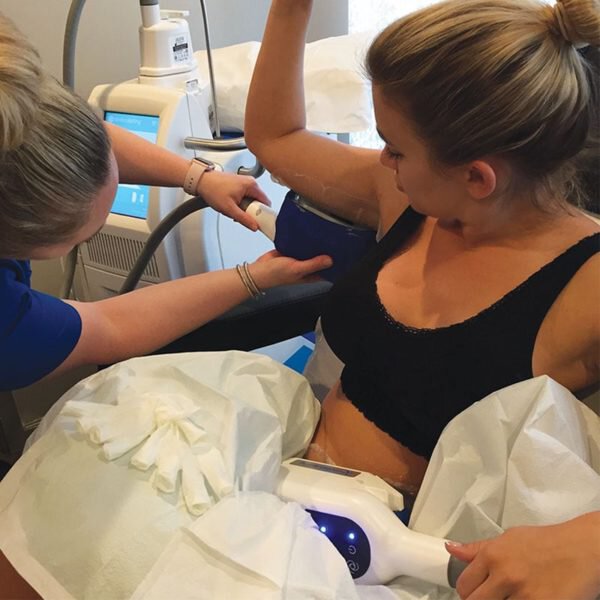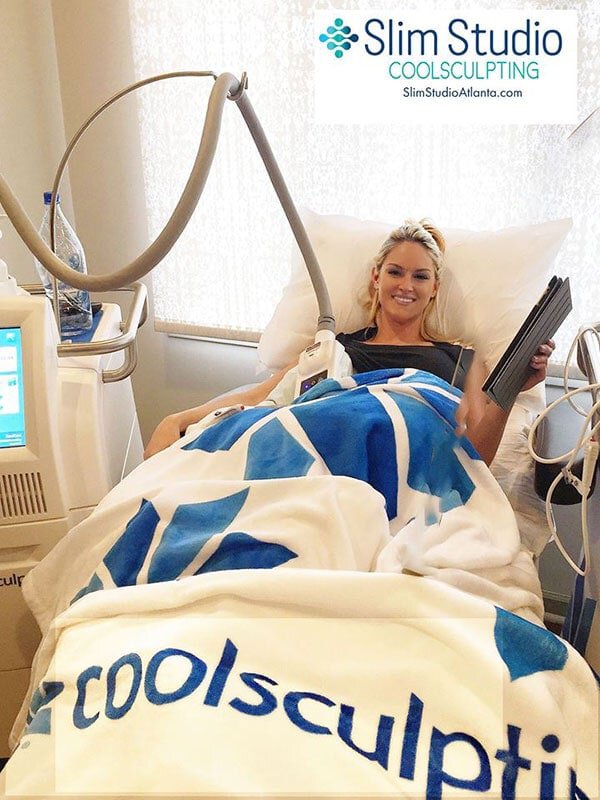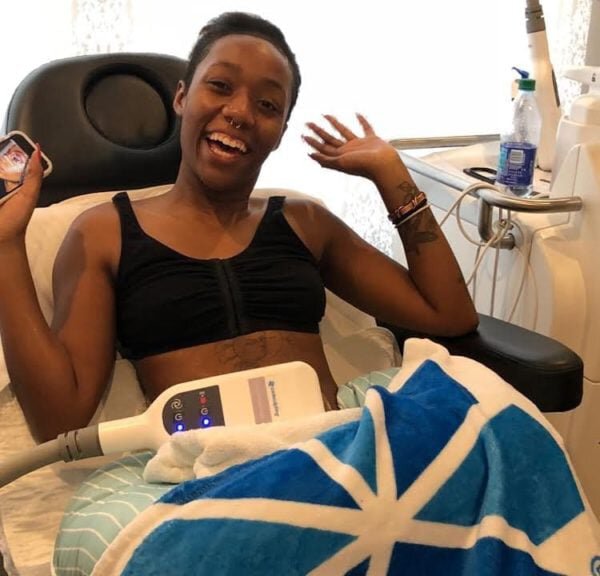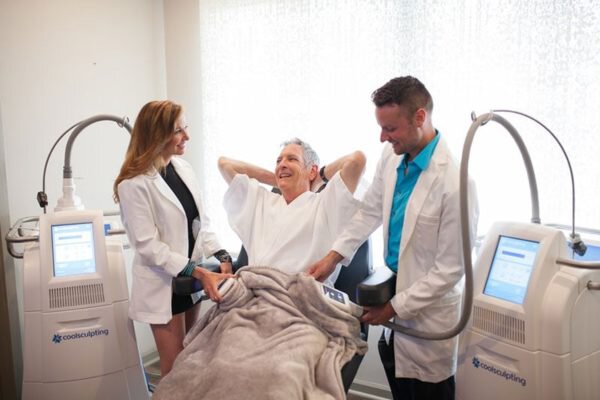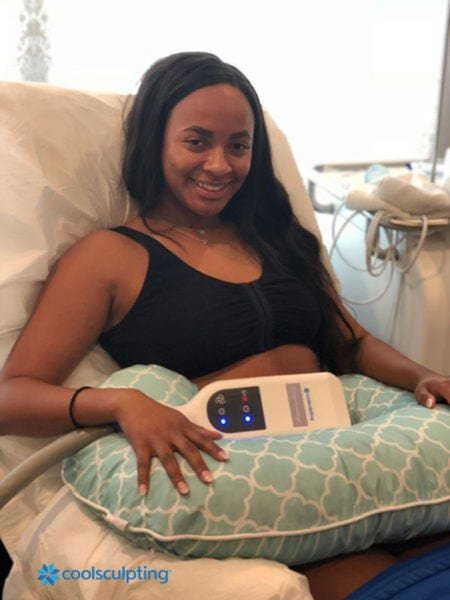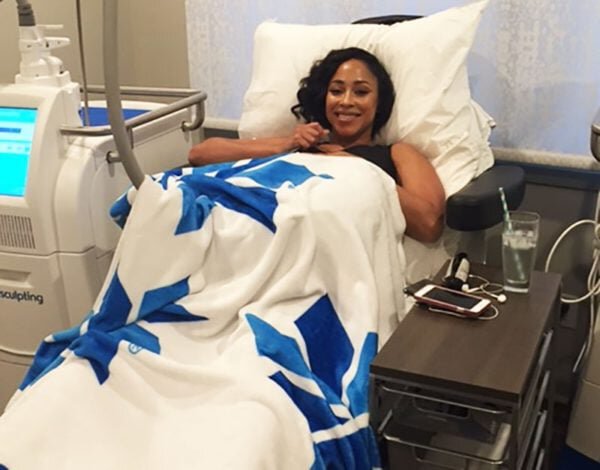 Coolsculpting FAQs
At Slim Studio, we have found that our patients have a number of questions regarding Coolsculpting treatments. Any kind of life-changing treatment, such as Coolsculpting, should be carefully considered. Therefore, it is completely understandable that one would want to obtain as much information as possible before undergoing any procedure.
Below, we have provided you with a few frequently asked questions and their corresponding answers to help you feel more acquainted with the procedure, from the different areas we treat to whether or not you'd be a good candidate, to recovery time. If you find that you still have a few more questions, you are more than welcome to contact our office to set up a complimentary consultation.
Your CoolSculpting Consultation is the First Step
It's easy to get started on your Coolsculpting journey to a slimmer you.
Get In Touch
Slim Studio Is Just For You
Slim Studio is Atlanta's premier BodySculpting center. We offer BodySculpting treatments with superior results, delivered by medical professionals with concierge service. Slim Studio is a certified EMSculpt NEO provider, and all of our technicians are certified experts who have had advanced training. We pride ourselves on delivering the best BodySculpting Atlanta has to offer.
Schedule a consultation
Book a complimentary consultation today!
It's easy to get started on your face and body sculpting journey. Your first step is to schedule a complimentary consultation at Slim Studio. You will find our staff warm, friendly, and eager to help you attain your face and body sculpting goals.
56 E Andrews Dr NW, Upper Level, Suite 11, Atlanta, GA 30305
Book Now