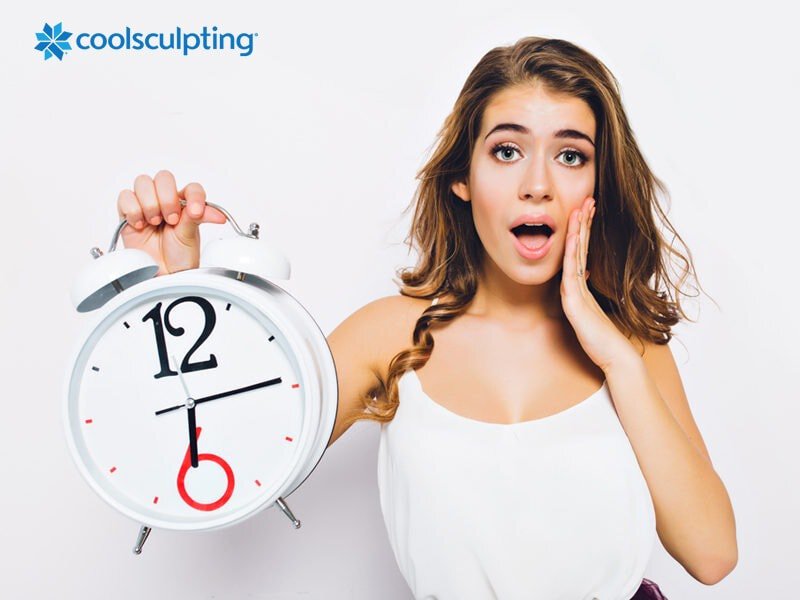 Book Your CoolSculpting Appointment Today!
If you've made your New Year's resolution to get in shape; whether it's a diet, utilizing a personal trainer or launching a new workout schedule…. you are not alone. While getting in our best shape is the most common resolution, so many of us fall short of achieving our goals! We feel you. As professionals in the medical and body contouring arena, we also know that even when on a diet and exercise plan you may still have stubborn fat that won't budge. The later in life, the harder it is to get rid of these diet resistant pockets of fat. Whether it's the dreaded "muffin top" that puffs up over the waistband, untoned arms or a double chin, these common trouble spots can stick around even after diets have ended. Enter CoolSculpting, the fantastic, non invasive procedure that can lead you to a slimmer body and a look that you love. Just like you planned your resolutions, take action by scheduling a CoolSculpting consultation now, the next step in a choice you won't regret.
Fortunately for you, now is the perfect time is to get started on a plan that we know gets results. At Slim Studio, Atlanta's premier Body Sculpting Center, we have seen it ALL and have a non-surgical solution that will get you feeling fit and fabulous. Due to the growing demand for body contouring, paired with the popularity of a non invasive option to slenderizing, CoolSculpting was brought to market. It was created by scientists to eliminate fat cells that resist diet and exercise. By literally freezing these fighter cells, they are stopped in their tracks, die, and are naturally eliminated by the body. What a wonderful process!
Because the body gets rid of the fat cells over time, it makes sense to get started right away; while winter is still upon us but before spring and summer arrive. We're still covered up with our winter gear, but lighter weight clothing and bathing suits are just around the corner! Whether you're planning a trip to the beach, visits to the pool or just wanting to "wow" that special someone, you can be relaxing in our comfortable Body Sculpting Center while this dynamic technology goes to work. What better reward for the hard work you've put into your workout and eating regimen?!

Who Is a Candidate for CoolSculpting?
CoolSculpting delivers results for those patients who are not interested in a surgical option like liposuction but want a boost to their diet and workout plans. The process works well on both men and women and is best for those that are not obese but want to get rid of bulges or pockets of stubborn fat. Those who are either at their ideal weight or generally not more than 30 pounds from their ideal body weight are typically the best candidates for CoolSculpting. Good skin elasticity is a plus. Many people use this treatment as a "motivator" by adding the procedure to their plans to slim down. Others may have CoolSculpting as a finishing procedure after working a good diet and exercise regime.
CoolSculpting: The Process
After your initial evaluation, the expert staff at Slim Studio will develop a customized treatment plan to combat your troublesome areas. Treatments typically take from one to three hours and the only requirement is sitting still. You can read, text, watch Netflix or just rest and relax! While preliminary fat reduction can be seen in three to four weeks, it usually takes about twelve weeks to see the final results of a treatment. The results will be lasting providing that you maintain your weight. Healthy eating and regular exercise are helpful after a CoolSculpting procedure.
Do This for Yourself
After all, you've come this far… now let us help you complete your goals of looking great and feeling your best! Reach out to us to experience the special environment at Slim Studio Atlanta by calling (404) 410-7777 or contacting us here.