We would all love to have a perfectly sculpted body, however, for some, it's not that easy. There are so many factors that can influence weight loss and overall body contours. From metabolism to genetics, to the time you have available in your schedule. Long intense workouts can be draining and even lead to injury. Unfortunately, even if you do make time to hit the gym there are a few stubborn areas where fat can still accumulate even with a healthy lifestyle.
Fat reduction technology will never be a substitute for a healthy diet and exercise routine, but body sculpting treatments are growing in popularity. Body sculpting treatments use technology to remove fat in a minimally invasive way. These treatments are growing in popularity because of their quick recovery time, the classic fat removal surgery (Liposuction) came with a hefty 6 month recovery time. Many of these new options can offer little to no downtime and some can be performed in under an hour.
Sounds great right? Unfortunately navigating the body sculpting market can be difficult. There are many options available and they aren't all created equal. As Atlanta's leading Body Sculpting Center, the staff at Slim Studio realize the importance of careful patient selection for our body sculpting procedures. By choosing good candidates for the treatments, the benefit to you is that you will receive an honest and careful assessment of your candidacy. Our professional, medical staff who perform the treatments are all licensed in their fields and have advanced training in various methods.
Let's compare a few popular options, CoolSculpting and Airsculpt.
What is CoolSculpting?
CoolSculpting technology works by applying targeted cooling to fat cells triggering cell death. Those frozen fat cells will begin to be eliminated by the body's own natural processes, there is no harm or danger to the surrounding skin, or nerves. The results are an impressive 20-25% reduction in fat in the treated area. The best part is once the treated fat cells are eliminated from the body they are gone for good.
CoolSculpting has been cleared by the FDA to treat 9 separate areas where stubborn fat tends to accumulate. These include under the chin, along the jawline, abdomen, flanks, thighs, back, underneath the buttocks, upper arms, and along the bra line.
The technology is based on science. The number of fat cells our bodies contain is set in childhood and adolescence, and varies little into adulthood. Meaning the number of fat cells in your body is specific to you. Gaining weight does not mean an increase in the number of fat cells we have but the size of those cells. CoolSculpting uses a technology called cryolipolysis that targets and freezes fat cells which your body will then eliminate naturally through the lymphatic system.
CoolSculpting treatments can last 35 minutes to an hour. You'll sit or lay down comfortably and the applicator will be placed on the area to be treated. You'll feel a slight sucking sensation as the applicator adheres to your body followed by its signature cooling effect. Soon the area being treated will become numb and you can relax for the remainder of the treatment time. Some people work or even nap during this time. After the applicator is removed your provider will quickly massage the treatment area to break up the treated fat cells and help enhance fat reduction.
Some patients report redness, swelling, or bruising after the treatment but these sensations are mild, temporary, and rare. A single treatment can reduce the fat layer in the treated area by 20-25% but your practitioner can help you decide how many treatments are best for your optimal results.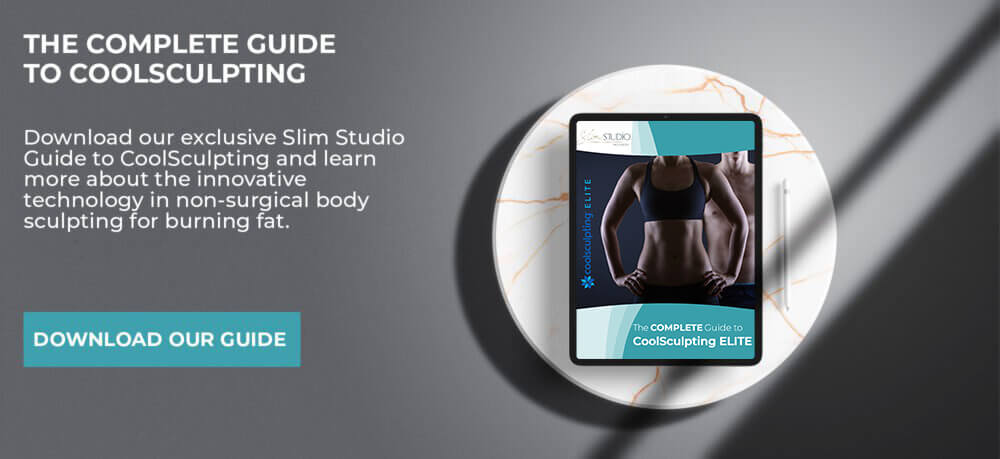 What is AirSculpt?
AirSculpt is a minimally invasive fat removal procedure. It boasts that it uses no needle or scalpel and fat is removed cell by cell from an opening smaller than a pencil eraser. As the site heals it leaves behind a blemish that looks similar to a freckle. When the procedure is complete, the entry site is left open to heal naturally, too small to need stitches. AirSculpt is a variation of liposuction, only with a much smaller tool used and no anesthesia, although patients are given an oral sedative to help them relax as they stay awake during the procedure. The recovery time is much faster than traditional liposuction, (which can be up to 6 months) and most patients are back to work within a few days of the procedure.
CoolSculpting Vs. AirSculpt: Which One is Best?
Like all medical procedures, you should discuss your options with your Doctor. At Slim Studio our staff wants the best solution for all our patients, and that is why we recommend CoolSculpting. Here are a few of the reasons why.
Non-Invasive: Although AirSculpt is considered minimally invasive, it's still a type of liposuction, you will be given an oral sedative and you will need recovery time. With CoolSculpting, the barrier of your skin will not be broken, and you can relax in comfort during the procedure.
Recovery: AirSculpt requires a minimum of 24-48 hours to recover at which point you can return to work, but it's likely you'll still be dealing with bruising and swelling as your body continues to heal. CoolSculpting has zero downtime, you can return to work immediately after your appointment.
Cost: Because AirSculpt is technically a variation of liposuction the price point is much higher. With CoolSculpting, because it's a simple and noninvasive procedure, you walk away thinner for about half the cost of air sculpting.
Why Choose Slim Studio?
Slim Studio has been dedicated to body contouring for almost 5 years with CoolSculpting as our main focus. Our experience and tenure have proved Slim Studio to be Atlanta's premier Body Sculpting Center. We are proud to share with you the fact that we are THE #1 center in the state of Georgia for the volume of CoolSculpting treatments! We are also in the top 3% of CoolSculpting providers in the United States.
We are located in Buckhead, Atlanta in the Chastain Park area and offer our guests easy and free ground-level parking. We pride ourselves on high patient satisfaction rates. Please check us out on Google & Yelp to see our honest patient reviews. We invite you to our very private and beautiful facility to experience Atlanta's best Body Sculpting treatments!