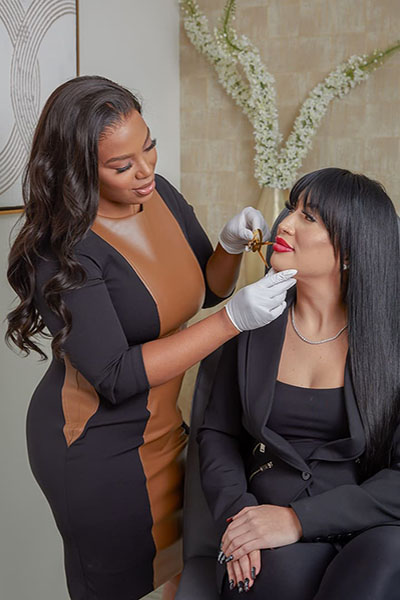 Over the past few years, facial injectables have continued to grow in popularity. Many great options, such as Botox and dermal fillers, can help you achieve the beautiful look that you desire. Both of these treatments are used to help turn back the hands of time by minimizing the appearance of wrinkles or adding lost volume back to facial features.
Although Botox and dermal fillers may seem similar, these products have different uses and advantages depending on your cosmetic goals. Therefore, being well-informed before deciding on the most appropriate treatment is crucial.
Botox Injections
Botox is an FDA-approved injectable medication that can help reduce facial wrinkles. Slim Studio Face & Body also offers similar products that go by the names Xeomin and Dysport. These medications work by blocking nerve signals in the facial muscles that are injected, helping to reduce moderate to severe wrinkles and fine lines. The areas most commonly treated are the forehead, lines around the eyes and mouth, and frown lines.
A Botox treatment requires minimal downtime, and you can return to work or daily activities. However, you would want to avoid strenuous activity for several hours following treatment. Results typically appear within 24 to 48 hours after your injection, and you should see its full effect within two weeks. Botox is known for delivering predictable, natural results that don't dramatically alter your appearance.
Dermal Fillers
Unlike Botox, which relaxes facial muscles, dermal fillers work by injecting a naturally-occurring gel molecule (hyaluronic acid) into areas of the face, like lips and cheeks, that you wish to add volume to and highlight. These injections help regain lost volume or minimize facial folds. Dermal fillers are a great option to restore structure to the face, creating a fuller and more youthful appearance.
Fillers add volume to areas of the face that appear to be depleted and are an excellent choice to treat nasolabial folds (smile lines), under the eyes (the tear troughs), and to add volume to the lips and the temple area. These fillers can also be used to contour the jawline, add volume to the chin and address vertical lip lines.
Within a few minutes of treatment, clients will see immediate results. There is minimal downtime, although some swelling or bruising can occur. You can expect the results of dermal fillers to last an average of 12 to 18 months.
At Slim Studio Face & Body, we offer a variety of the most popular and effective dermal fillers to choose from, including the Juvederm family of fillers, a very popular brand of cosmetic filler. This product line includes Voluma, Vollure, Volbella, Ultra, and Ultra Plus. We also carry the Restalyne family of fillers. The Restalyne line consists of Contour, Defyne, Refyne, Lyft, Silk, and Kysse.
The collagen stimulators, Sculptra and Radiesse, can also be requested at Slim Studio Face & Body. These products work with your own regenerative processes to volumize and enhance areas such as the jawline, chin, and hands.
Effectiveness of Botox and Dermal Fillers
When performed by a qualified Master Cosmetic Injector, Botox and dermal fillers are considered safe and effective cosmetic procedures. However, both procedures come with their own set of potential side effects. The effects of dermal fillers are longer lasting than Botox, but both treatments require touch-ups to sustain the results. In your consultation with our talented injectors, they will thoroughly evaluate your medical history and discuss potential risks before recommending any procedure. They will also fully educate you, perform a complete facial assessment, provide you with a personalized treatment plan, and give you post-treatment instructions to help you maintain your youthful appearance.
Choosing Botox vs. Dermal Fillers
The decision between Botox and dermal fillers depends on the facial areas you wish to correct; Botox addresses wrinkles, and dermal fillers add volume. Most often, it's a combination of both of these treatments that will achieve the facial enhancement results that you desire.
The results from Botox injections do not last as long as dermal fillers and require touch-ups more often. Botox results typically last 4-6 months and cosmetic filler longevity generally is between 6-24 months. Treatment touch-ups can also depend on the area where the injections have been performed. For example, dermal fillers placed in the cheek area can last up to two years, while lip fillers may only last six months to a year.
Slim Studio Face & Body Can Help You Decide
Not sure whether Botox or a dermal filler is the best choice for you? At Slim Studio Face & Body, we look forward to helping guide you on your face and body sculpting journey. Start by scheduling a complimentary consultation, at which our staff will create the best treatment plan for you.
To enhance the features of an already beautiful you, begin your journey by contacting us at (404) 410-7777 or completing our online contact form.