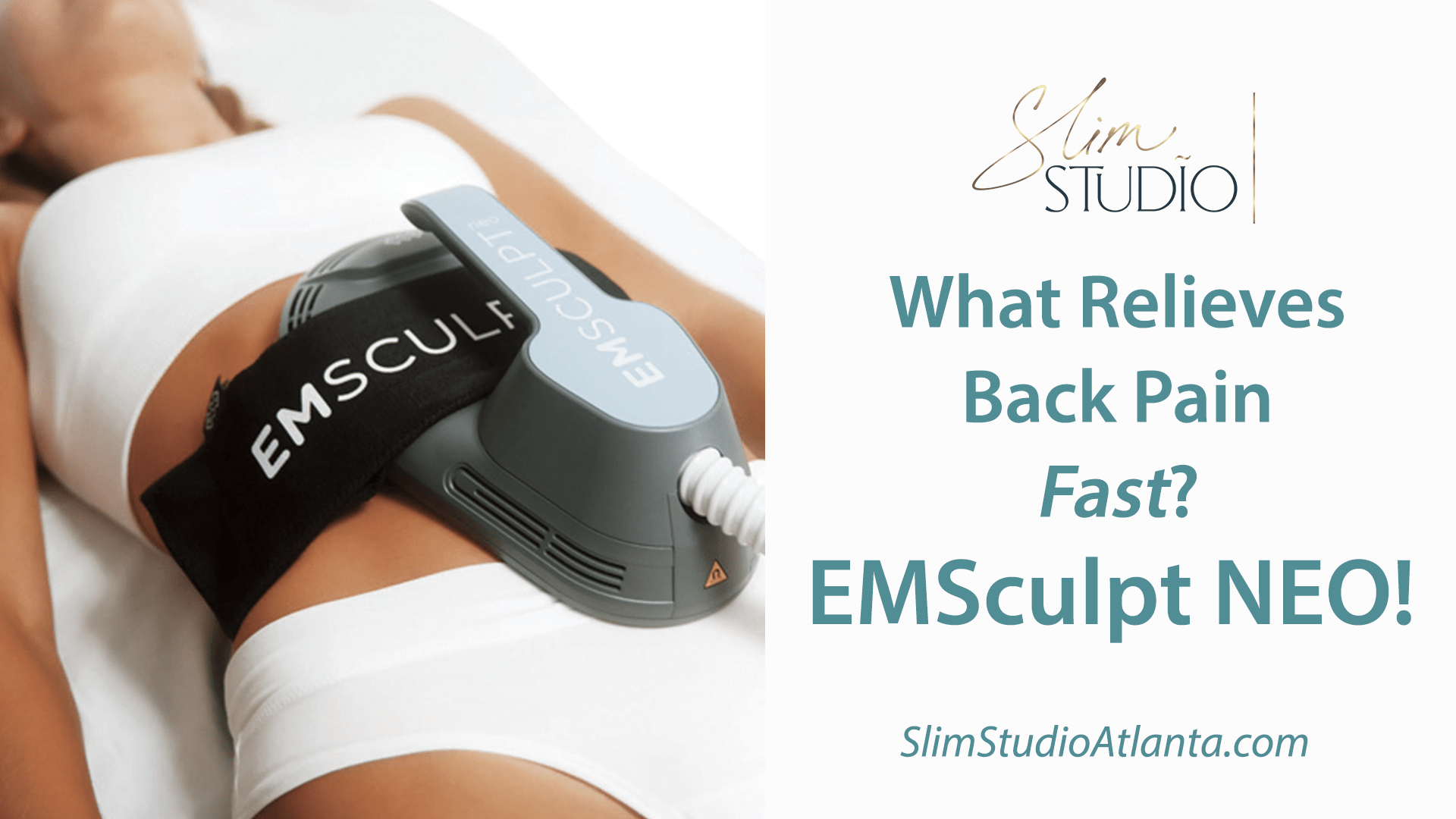 Living with back pain can be very frustrating to those that are used to living an active lifestyle. Approximately 16 million or 8 percent of adults experience back pain in the US. Physicians can prescribe medical treatment for serious issues like hernias, slipped discs, and nerve damage.
One thing all doctors agree on is that a strong core is essential to a healthy, pain-free back. If you strengthen your core, your spine will be supported and this will lead to longer term pain reduction. What relieves back pain fast? Luckily for you, getting a stronger core is available quickly and easily with EMSculpt NEO treatments.
How can I relieve back pain at home? You can help improve some generalized back pain yourself, such as muscle spasms, overexertion or weakness and a general deconditioned core on your own. With diet and exercise, heat and cold, stretching, pain relief cream containing arnica and/or massage, acupuncture and chiropractic. There is also a cutting-edge technology we would like to introduce to you, called EMSculpt NEO!
Because this groundbreaking treatment builds muscle in the all-important core, Emsculpt is being used to prevent and minimize generalized lower back pain. Many of our patients experiencing lower back pain have found relief after their EMSculpt NEO treatments at Slim Studio Face & Body, Atlanta's premier non-invasive Body Sculpting Center.
EMSculpt NEO builds, tones and defines muscles – in 30 minute treatments at Slim Studio. If treating the abs, you can enjoy the benefits of performing 20,000 sit-ups during each treatment. One session for treating your glutes is similar to doing 20,000 squats per treatment. Your glutes, quads and hamstrings also support your spine, so strengthening these areas can also be accomplished with Emsculpt treatments. The FDA approved EMSculpt NEO protocol is 4 treatments, performed once a week for 4 weeks.
Emsculpt is FDA approved to treat both muscle & fat, making your midsection a powerful force for your daily activities.The non-invasive HIFEM® (High-Intensity Focused Electromagnetic) technology induces powerful muscle contractions not achievable through voluntary contractions. These "supramaximal contractions" effectively treat the area to strengthen and tone the abdominal muscles. The newest Emsculpt technology is EMSculpt NEO (the NEW Emsculpt). RF (Radio Frequency) has been added to this new device; it heats muscle and reduces fat. RF has been used in other devices for fat reduction, and when muscles contract, heated muscles perform better, so you're maximizing your treatment effectiveness with NEO.
Can EMSculpt NEO Really Heal Back Pain?
To understand why EMSculpt NEO can help with your back pain, it's important to understand what can cause back pain. For some, back pain is caused by poor posture, injuries, aging muscles, or carrying excess weight. Others experience back pain from standing or sitting for long periods such as retail workers or deskbound computer workers.
Because the abdominal muscles support the spine, if they are weak, your spine will compress and your back will overcompensate to keep you upright. This can cause aches and pains, stiffness, and leave you feeling like you don't want to do anything. Whatever the cause, your doctor will tell you that strengthening your core is essential for healing back pain. Building a stronger abdominal core can help you prevent back pain. You'll rely less on medications, cortisone shots and lengthy treatments and rely more on yourself to help your body to feel better.
The Benefits of EMSculpt NEO for Back Pain
While we are advocates for working out and maintaining a fitness regimen for healthy weight, you may not have the time to dedicate to daily workouts. Because your core muscles wrap around your entire waist and back area they essentially "hold you up." If they are slack, weak and not engaged with focused exercise, your weak abdominal muscles can contribute to back and neck pain.
And even though strengthening your core is essential to a strong and healthy back, working out when you have back pain can be challenging. If physical therapy and chiropractic appointments are recommended by your physician, Emsculpt NEO is a great supplement to these treatments. Adding EMSculpt NEO to your treatment plan can greatly enhance the strength of your core, without you doing the crunches!
How to Prevent Back Pain
Once your core is strong and tight, you'll be more likely to stand up straighter with proper spinal alignment. Prevent future back pain by following these good habits:
Lift your neck and head while browsing on your phone or tablet
Wear comfortable, cushioned shoes with arch supports as much as possible
Engage your core throughout the day (this becomes easier with Emsculpt!)
Check your mattress- ensure you have proper cushioning
Lift heavy objects by using your leg muscles, not your back
Move daily and stand at least once an hour if you work at a desk
Visit Slim Studio Face & Body for EMSculpt NEO
If you're ready to relieve your back pain by strengthening your core, visit Atlanta's Slim Studio Face & Body, where we pride ourselves by offering honest assessments and delivering excellent patient care. Our center is dedicated to offering only the best in Face and Body Treatments with the most highly trained and experienced professionals. Our expert staff at Slim Studio will apply applicators to the muscle group we're treating for your 30 minute session. The muscles we can strengthen are Abs, Glutes, Biceps, Triceps, Hamstrings & Quads. We can also treat Inner and Outer Thighs.
Once your session is done, you can get on with your daily activities immediately. You may feel muscle soreness the next day, similar to how it feels the day after a good gym workout. Throughout your series of sessions, your muscles will become stronger and tighter and more able to properly support your posture, which in turn, helps reduce your back pain.
Reach out to us here, call (404) 410-7777 or email concierge@slimstudioatlanta.com and we can schedule you for a Complimentary Consultation or Consultation and Treatment. We take your health and your comfort seriously and would love to help you feel better with less back pain!
Slim Studio Face & Body is Atlanta's premier destination in Georgia that exclusively performs EMSculpt NEO, CoolSculpting and Facial Enhancement with Botox and Fillers. We offer Body Sculpting treatments with superior results, delivered by medical professionals, with concierge service. Slim Studio is a certified CoolSculpting & Emsculpt provider, and all of our technicians are certified experts who have had advanced training. We pride ourselves on delivering the best BodySculpting Atlanta has to offer. We are conveniently located in Buckhead, Atlanta.