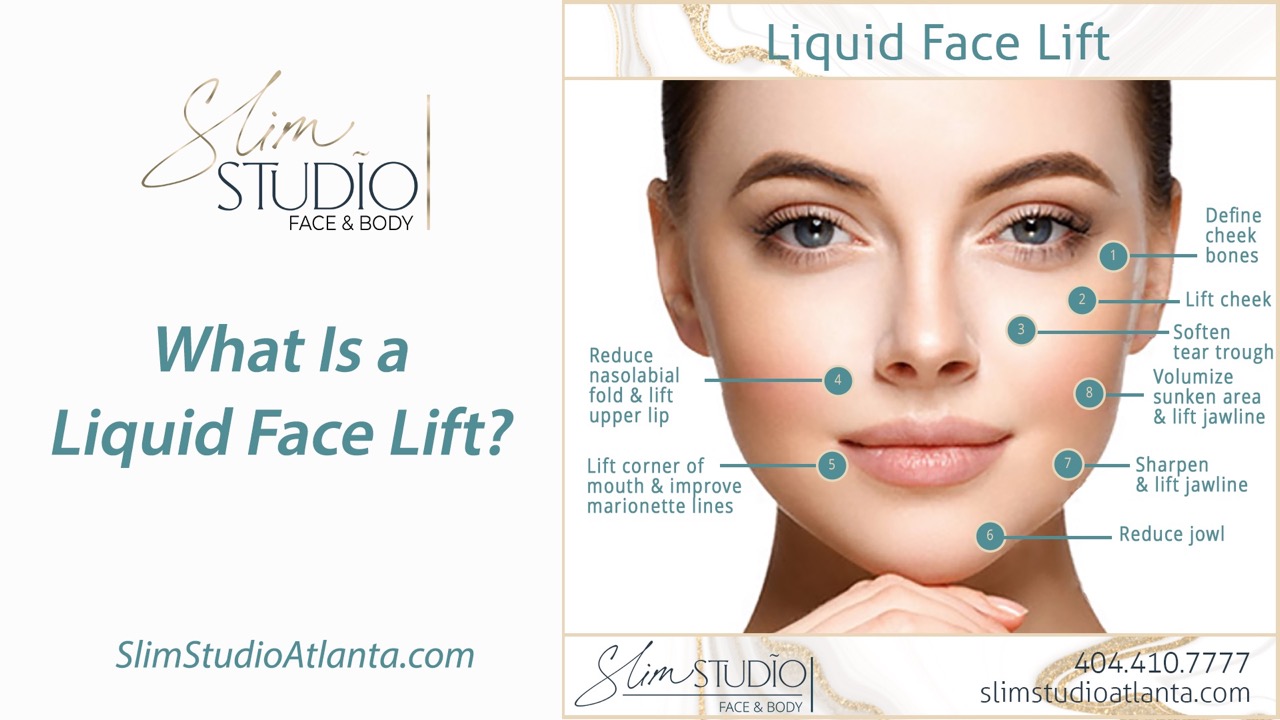 Our skin naturally loses elasticity, collagen, and subcutaneous fat as we age, resulting in fine lines, wrinkles, and sagging skin. While surgical facelifts are an option for addressing these signs of aging, they can be expensive, require significant downtime, and come with the risks associated with surgery. Fortunately, there is an alternative: the liquid facelift.
A liquid facelift, or an 8-point facelift, is a non-surgical cosmetic treatment that combines injectable dermal fillers (such as Juvederm and Restylane) and neuromodulators (such as Botox) to lift, contour, and rejuvenate the face. It's a minimally-invasive alternative to traditional facelifts and can provide significant, long-lasting results with minimal downtime.
Let's look closer at the different types of injectables available to you at Slim Studio Face & Body. We use various products in a liquid facelift and will discuss how they work together to create a more youthful appearance.
Dermal Fillers
Dermal fillers, also called Cosmetic Fillers, are injectable substances designed to add volume to the face and smooth out wrinkles and fine lines. There are many types of dermal fillers available, including hyaluronic acid (HA), calcium hydroxylapatite (CaHA), and poly-L-lactic acid (PLLA).
Hyaluronic acid fillers are the most commonly used dermal filler in a liquid facelift. In the US, two main groups of HA Fillers are available. The first is a family of products called Juvederm, which includes Juvederm Ultra, Ultra Plus, Volbella, Vollure, and Voluma. The second group is the Restylane family of products, including Silk, Defyne, Refyne, Kysse, Lyft, and Contour. HA Fillers work by plumping up the skin and adding volume to areas that have lost elasticity and volume due to aging. HA fillers are popular because they are natural-looking and long-lasting (typically lasting 6 to 12 + months).
Calcium hydroxylapatite is called Radiesse, and this filler works by stimulating collagen production, which can help improve skin texture and reduce the appearance of fine lines and wrinkles. These fillers can last up to a year or more.
Poly-L-lactic acid fillers are designed to stimulate collagen production over time, leading to gradual and long-lasting results. The name of this product is Sculptra, and this type of filler is typically used for deeper wrinkles and areas that require more significant volume restoration.
When used in a liquid facelift, dermal fillers are strategically injected into different areas of the face to restore volume and contour. For example, they can be used to plump up the cheeks, smooth out nasolabial folds (the lines that run from the nose to the corners of the mouth) and add volume to the temples and lips.
Neuromodulators
Neuromodulators, such as Botox, are injectable substances that work by relaxing the muscles that cause wrinkles and fine lines. Botox is the most well-known type of neuromodulator and is commonly used in a liquid facelift to address dynamic wrinkles, which form when we make facial expressions (such as frown lines and crow's feet). The other neuromodulators available in the US are Dysport and Xeomin.
When injected into the facial muscles, these products temporarily paralyze them, preventing them from contracting and causing wrinkles to form. This can help smooth out existing wrinkles and prevent new ones from forming. Botox injections typically last around three to four months.
Combining Injectables
A liquid facelift typically involves a combination of dermal fillers and neuromodulators. By combining these injectables, the Master Injectors at Slim Studio Face & Body can create a comprehensive treatment plan that addresses multiple signs of aging and produces natural-looking results.
For example, a liquid facelift might involve dermal fillers to restore volume to the cheeks and lips, while Botox is used to smooth out forehead wrinkles and frown lines. Addressing both volume loss and dynamic wrinkles results in a more youthful and refreshed appearance.
What are the benefits of choosing a liquid facelift over a surgical facelift?
While surgical facelifts can be effective at addressing signs of aging, they require a significant investment of time, money, and recovery. A liquid facelift offers several benefits as a non-surgical alternative:
Minimal Downtime: Unlike a surgical facelift, which requires several weeks of recovery time, a liquid facelift typically involves little to no downtime. Most people can return to their regular activities immediately after the procedure, making it a convenient option for those with busy schedules.
Non-Invasive: A liquid facelift is a non-invasive procedure, meaning there are no incisions or cutting involved. Instead, injectables are used to restore volume, smooth out wrinkles, and provide a more youthful appearance.
Reduced Risk: Any surgical procedure comes with risks, including anesthesia complications, bleeding, infection, and scarring. A liquid facelift is a minimally invasive procedure that involves only injections, which significantly reduces the risk of complications.
Customizable: A liquid facelift is a highly customizable procedure. Your cosmetic injector can tailor the treatment plan to your specific needs and goals, using a combination of dermal fillers and neuromodulators to address different areas of concern.
Gradual Results: A liquid facelift can provide long-lasting results without the sudden, dramatic change associated with surgical facelifts. The results of a liquid facelift can develop gradually over time, producing a more natural-looking outcome.
Cost-Effective: Liquid facelifts are often more cost-effective than surgical facelifts, which can be prohibitively expensive for many people. While the cost of a liquid facelift varies depending on the types of injectables used and the number of treatments required, it is generally more affordable than a surgical facelift.
Overall, a liquid facelift can be an excellent option for those who want to rejuvenate their appearance without the risks, expense, and downtime associated with surgical facelifts. By using a combination of injectables, the Master Injectors at Slim Studio Face & Body can provide long-lasting, natural-looking results that enhance your features, provide a more youthful appearance and restore your confidence.
For more information, to schedule your Complimentary Consultation or Consultation and Treatment, please call us at (404) 410-7777 or email concierge@slimstudioatlanta.com
Slim Studio Face & Body is Atlanta's premier destination in Georgia for Facial Enhancement with Botox and Fillers. We also offer the non-invasive Body Sculpting treatments EMSculpt NEO and CoolSculpting. Our procedures deliver superior results and are performed by medical professionals, all with concierge service. We pride ourselves on delivering the best Facial Enhancement and BodySculpting treatments that Atlanta has to offer.