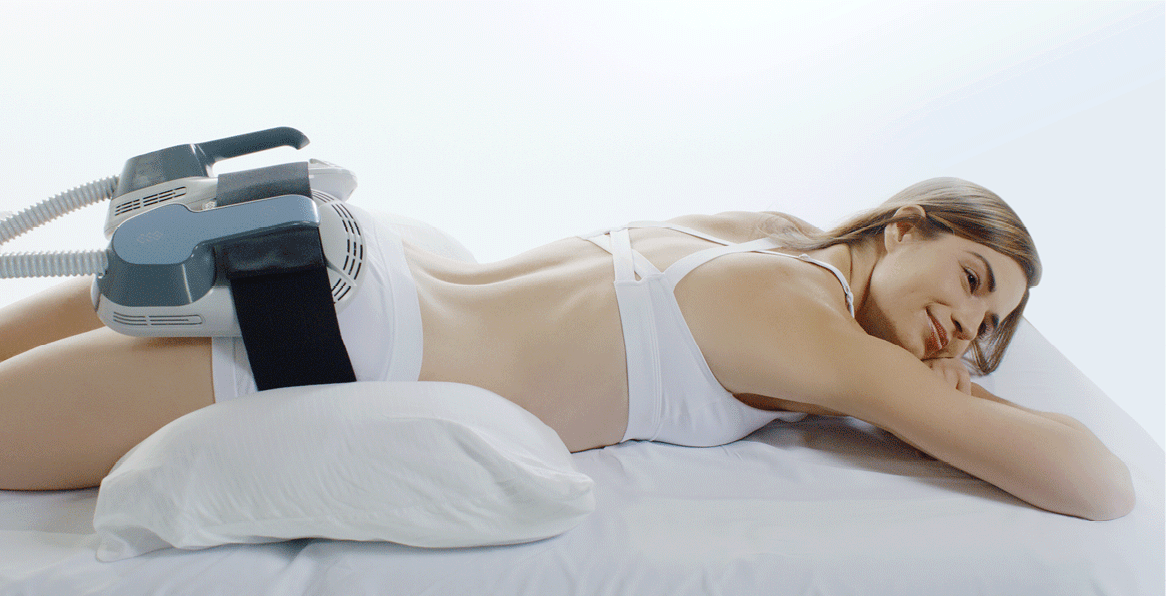 Today's fashion trends tend to highlight a beautiful derriere. The majority of men and women love to look great in jeans, and who doesn't wear Spanx, leggings, or other form fitting attire? Whether you work out or go the surgical route with a Brazilian butt lift, everyone is looking to make their booty one of their best assets! Even as summer comes to a close, it's a great time to focus on firming and lifting your gluteal muscles. Getting a toned and round bum can be very difficult to achieve. Some of your build is genetic, so if you weren't "gifted" a primo booty, you will have to work out even harder. Time must be invested in daily workouts, and some of us will turn to a personal trainer for that extra boost. EMSculpt is a new FDA-approved procedure that helps lift, tone, & firm the gluteal muscles. With EMSculpt, you can achieve that gorgeous derriere quickly!
Read on about EMSculpt – which is THE answer for an extra booty boost. In addition, we've listed the best exercises that you can add to your workout to get a beautiful bum.
EMSculpt is the answer for an extra booty boost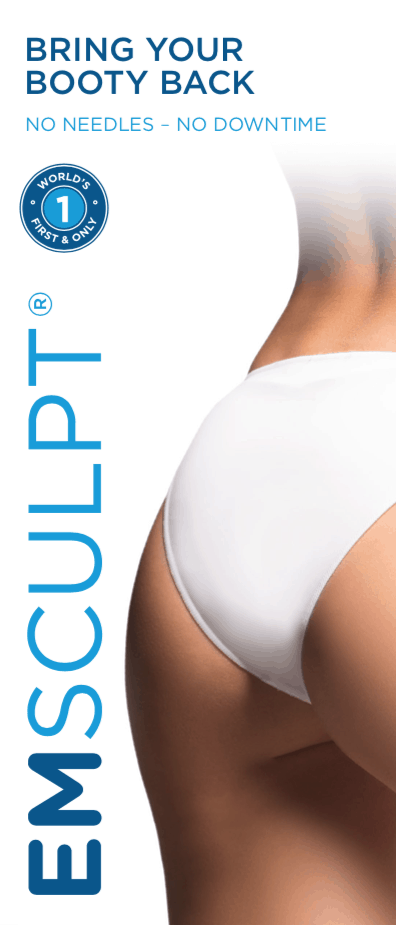 When squats, lunges, deadlifts, and eating right are only doing so much, you may want to
check out EMSculpt. This new FDA-approved procedure is transforming bodies every day as the perfect amplifier to your already active routine. EMSculpt is a non-invasive procedure that forces your muscles to tighten and tone using HIFEM (High-Intensity-Focused-Electromagnetic) technology. This revolutionary method creates strong contractions that are not achievable through your own voluntary contractions (like squats). EMSculpt will put your muscles into supramaximal contractions that will build muscle fiber & volume at a level that you can't achieve on your own.
If your time is limited and you want to build muscle in those all-important areas, EMSculpt is the answer. In addition to helping you with your booty, EMSculpt builds & defines abdominal muscles & can help build biceps, triceps, & calves. For those looking for a little more fat removal, we recommend a body sculpting plan that combines both CoolSculpting and EMSculpt treatments for optimal results.
Download the "Ultimate Guide to EMSculpt" and learn more about the amazing results people all over the world are getting with EMSculpt.
The Best Exercises to get a Beautiful Bum
Exercising your bottom shouldn't be an arduous task. There are effective workouts andtreatments for overall booty enhancement that will have you looking and feeling confident. Slim Studio is happy to share with you the top exercises, the best foods to eat, and some new treatments that will give you a beautiful bum to love.
Squats are classic and effective
Squats are one of the best ways to tone your calves, thighs, and booty. Doing squats the proper way is very important when aiming for noticeable results and to avoid injuring your body. With the right form, squats will tighten and lift your booty and can help reduce the appearance of cellulite.
To get the maximum results from your squats, add weights or resistance when you do your reps. After a while, "air-squatting" will not do much more than hurt your knees and cause frustration. The best part about doing squats is you don't have to have a gym membership to do them. Just use weights at home, or use any heavy object that works.
Lunges tone your booty, legs, and abs
A lunge is a single-leg bodyweight exercise that works your hips, glutes, quads, hamstrings, core, and the hard-to-reach muscles of the inner thigh. Best of all, they are simple to learn because they mimic walking! However, doing a proper lunge is as important as your squat formation.
Intensify your lunges by adding weights to max out your workout and save time. In general, adding weights, or resistance, to any of your workouts will help build muscle. Start incorporating lunges into your workout routine and reap the booty-benefits.
Deadlifts bring your booty back to life!
They might sound groan-inducing, but deadlifts are an effective way to amp up your backside. Deadlifts can be done a number of different ways, to firm and lift your bottom. When aiming for maximum impact, focus on squeezing your gluteus muscles at the top of each lift.
Donkey kick your way to a tight bum
Of all the booty-enhancing workouts, donkey kicks are one of the most fun and safe. The most important thing to remember when doing donkey kicks is to focus on using your gluteal muscles to lift your leg. We like to do them while watching TV!
Eat the right foods for muscle growth
If you spend time at the gym but neglect to eat well, your health and body will be at a disadvantage. There are plenty of delicious food options that will keep you energized and growing in all the right places. As you may already know, you should limit drinking alcohol, and indulging in the wrong foods.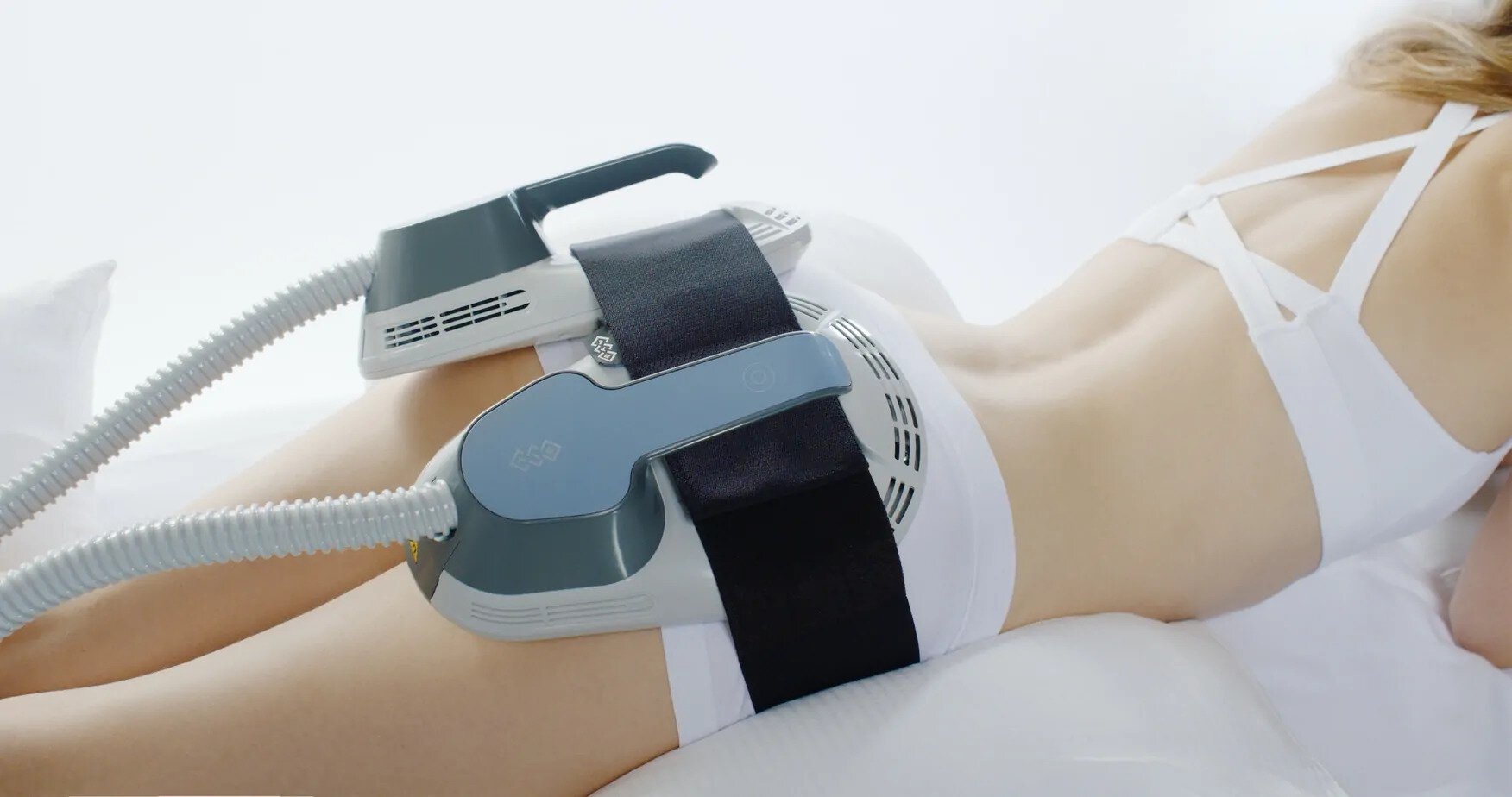 Slim Studio is your EMSculpt expert!
Need that toned booty now? Fill out the form here and one of our certified body sculpting technicians will reach out to you. Let's get you the body (and booty) you've dreaming of!