CoolSculpting In Atlanta – Does It Work?
Last month I told you I was going to give CoolSculpting at Slim Studio in Buckhead try, so now it's time for an update on how the procedure went! I mentioned that I was nervous – and that didn't really change on the day of the procedure. I had some butterflies in my stomach when I walked in the center. I think that's totally normal considering I was about to spend the next few hours getting, literally, frozen. Turns out, I had nothing to be worried about.
The Coolsculpting machine, while a little intense looking, is really just a vacuum-based applicator with cooling panels. It's placed on the skin, then the vacuum is activated, and it freezes our fat cells to the temperature that kills the fat without harming the body's water-based cells (which we don't want to mess with.) Easy as pie, right? Pretty much.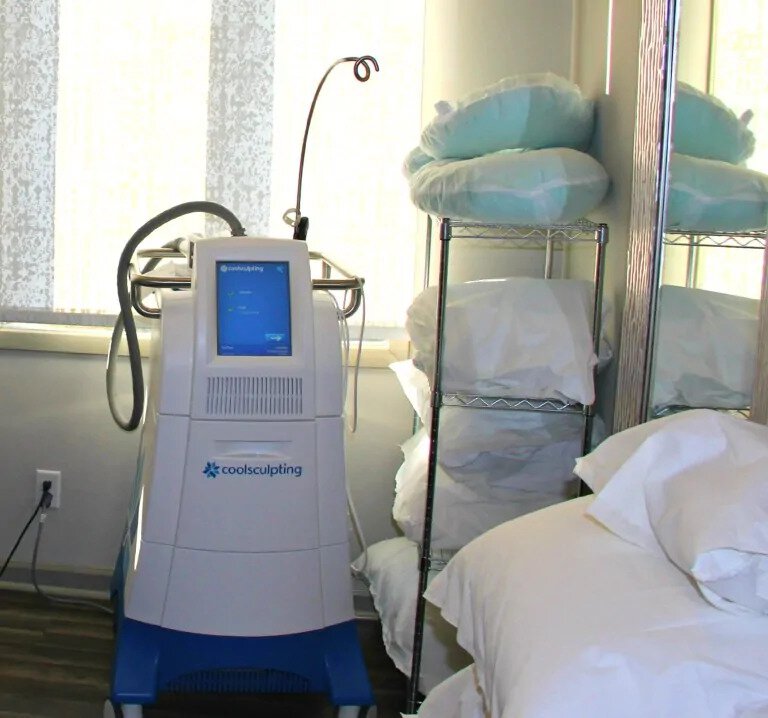 Cool Sculpting Machine Peachtree Roadies Blog about Slim Studio Cool Sculpting
That isn't to say the entire thing was comfortable. Before the proceed, I was tucked into a nice bed and surrounded by fluffy pillows and blankets. I LOVED this part. Then my CoolSculpting Specialist placed a very chilly gel pad on my over the area we were treating. The pad was there to protect my skin from the freezing, which is obviously very important. Once the pad was in place they attached the first handset. It felt like someone stuck a high powered vacuum again my skin…which is exactly why was happening. At this point, I did start to feel a bit of dull pain as the handset became firmly attached. The discomfort went away after about 10 minutes when the skin fully went numb. They repeated this process on the other side of my body and made sure I was as comfortable as possible before I settled in for an hour while the machine started working its magic on my fat cells.
The great thing about Slim Studio is that the environment reminds me of a spa. They were constantly checking on me to make sure I was as comfortable as possible. I could page them at any time, and there were plenty of snacks and drinks within reach so I was perfectly content. I was even able to get some work done on my computer and watch movies while the procedure was taking place.
I would recommend Slim Studio to anyone who is even a little bit nervous about the procedure. They make you feel incredibly comfortable and confident. After 60 minutes, my treatment specialist came back into the room and detached me from the machines — and I felt a brief pull. This next part is crazy… the handset left behind a solid mass of hardened fat —my treatment specialist called it the stick of butter — underneath my skin, where the handset had been. She massaged the butter stick (I'll never look at one the same) to break up the ice crystals, which was the most painful part of the entire procedure. But the pain was manageable. I didn't cry out, I just didn't enjoy it. The skin went right back to normal once the massage took place. That was the end of the treatment. I cleaned up and went back to work. Literally no downtime in my day. I did experience some numbness and tenderness right off the bat, and she let me know this might last a couple days, but it wasn't painful and didn't slow me down.
Again, I'm not going to say the procedure was super comfortable or that it felt like a message. But I will say, with the results, it will create it was 200% worth it. And I would do it again in a heartbeat. Stay tuned for my post about the weeks following…and the results! Can't wait to share them!
More about Slim Studio:
Slim Studio is Buckhead, Atlanta's premier CoolScupting center. Their studio is absolutely beautiful and offers a private, serene boutique-style environment, which is really important since the treatments are an hour each. As I mentioned, Slim Studio, is one of the select few facilities that are able to offer Dualsculpting in Atlanta. Please take advantage of their complimentary consultations and financing options. (404) 410-7777 or 56 E Andrews Dr Upper Level, Suite 11 Atlanta, GA 30305.
Disclaimer: This post is sponsored by SlimStudio. However, the thoughts and opinions are my own. Also, I'm not a doctor, so this isn't a medical claim, opinion or based on my years of medical experience.