Ky is both a professional bikini model and competitive body builder. She first treated her Abs with EMSculpt NEO and after experiencing excellent results, decided to get that extra muscle build for her Glutes. Ky answers questions about this amazing muscle building, fat burning technology!
Call us today (404) 410-7777 or schedule a consultation online to learn more about EMSculpt NEO at Slim Studio Atlanta.
Professional Body Builder Raves About EMSculpt NEO!
Toning up your body is the goal of any fitness routine, and it can be hard to find the time or energy to do so. But if you are a professional bodybuilder and bikini model, it is crucial to constantly work out and diet, this becomes a way of life. So, when mom and bikini model Ky needed an edge to fine tune her already muscular body, she turned to EMSculpt NEO, a noninvasive procedure that builds, tones and defines muscles – it was the perfect "add on" to her already rigorous workout regime.
The 30-minute procedure works by delivering High-Intensity Electromagnetic energy which creates muscle contractions that grow muscle volume and new muscle fibers.. In just a short series of sessions, you can sculpt your body by amplifying the muscles of your abs, arms, buttocks, calves and thighs.
We caught up with Kai to learn more about the procedure and why she chose to do her EMSculpt NEO treatments at Slim Studio in Atlanta.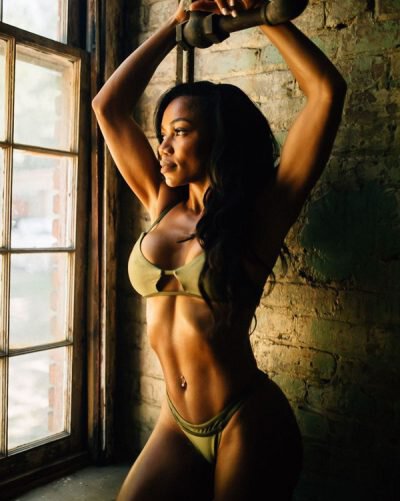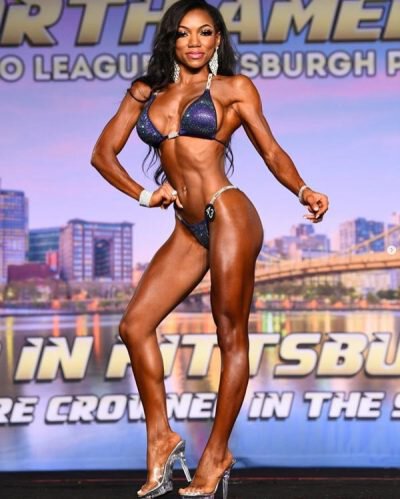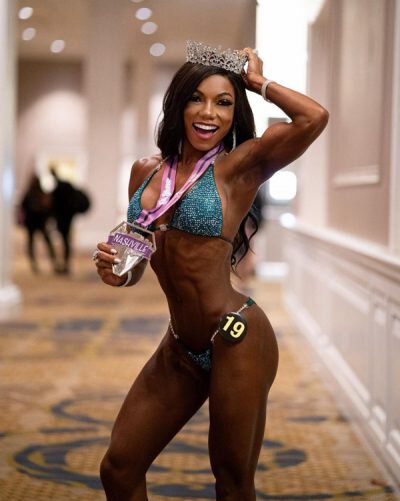 AFM: With so many non-surgical treatments available, why did you choose EMSculpt NEO?
K: I'm an IFBB Bikini Competitor, and I chose to get EMSculpt NEO because it was highly recommended to me by my posing coach. I did my research on the EMSculpt technology and learned that the EMSculpt NEO version of EMSculpt is the newest generation device. With NEO, you get two therapies in one treatment: NEO has both the HIFEM magnetic energy and Radio Frequency, therefore you will build MORE muscle and reduce MORE fat with EMSculpt NEO vs regular EMSculpt or any other technology. I searched for alternative options and found that there were so many great reviews about EMSculpt NEO and little on any other technology. I wanted to do EMSculpt NEO to assist in building the areas that I already work on in the gym. EMSculpt NEO is like getting the cherry on top of a well-crafted sundae.
I also liked that I could treat my glutes and abdomen, as well as arms and legs, and it was the least invasive option with no downtime. Plus, it was effortless to work into my busy schedule. I waited five days between my treatments, and sometimes I even worked out the same day.
AFM: What did you want to achieve with the procedure?
K: My main goal with EMSculpt NEO was twofold. First, I wanted to achieve a tighter core. And secondly, I wanted to increase the number of decline crunches that I could do. For my glutes, I wanted to lift, tighten, and have gluteal muscles that were more pronounced.
AFM: How did you prepare for your treatments?
K: I drank a lot of water before and after each treatment. It's recommended to drink half your body weight in ounces in the days leading up to your treatment.
AFM: How long did each treatment take?
K: So far, I've had four sessions of EMSculpt NEO to my abs and four sessions to my glutes. Each treatment takes about 30 minutes. They aren't painful at all! The treatments feel akin to an intense workout–like a strong contraction of that muscle group, but EMSculpt NEO takes you beyond the level of muscle contraction that you can achieve on your own.
Although EMScupt NEO delivers an intense and somewhat unusual feeling, the treatments get easier each time. There's no discomfort or limitations afterward, and it just feels like you've done a really intense workout. I also love the fact that I can return to my normal activities right after the treatment.
AFM: Tell us what types of changes you were able to see after the treatment.
K: I saw and felt precise results immediately after treatment and continued to get stronger in the following weeks. I was also able to see excellent results from my before and after photos. Not only do my abs look tighter, but I'm also stronger. In addition, it made a significant impact on my overall core strength.
The benefit I've received by treating my abs, is that I've increased my decline crunches from about 10 – 15 before EMSculpt NEO to about 30 – 40 after the series of EMSculpt NEO treatments. My core is definitely stronger. Following the treatments to my glutes, I can now squat with more weight than I could before NEO. My glutes sit higher and are more pronounced.
AFM: Why did you choose Slim Studio in Atlanta to perform your EMSculpt NEO?
K: They were so professional and well-versed in the treatment. I went into the procedure with a complete understanding of what to expect, which I appreciated. The staff is so welcoming and friendly, I love my visits to Slim Studio.
AFM: Now that you achieved your goals, are you planning any future EMSculpt NEO treatments?
K: Yes! My goal now is to continue having regular EMSculpt NEO treatments with Slim Studio's EMSculpt NEO Maintenance program. I will probably have treatments about once a month.
AFM: Why would you recommend EMSculpt NEO to others who are interested in the treatment?
K: If someone wants an added advantage, especially if you're someone who works out, EMSculpt NEO is a great choice! I have been exceptionally pleased with my results.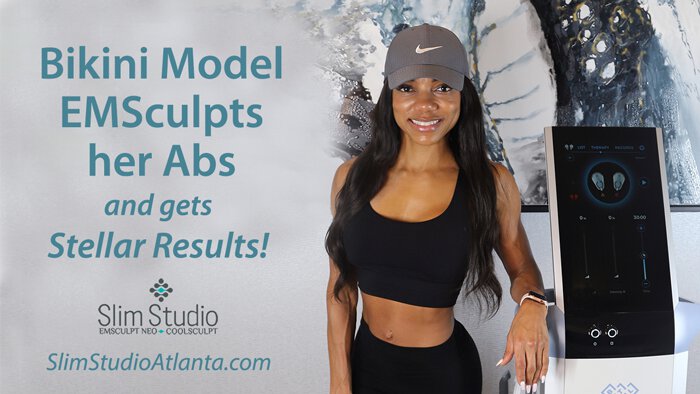 Click here to watch, our patient, Ky, an IFBB Pro Bikini Competitor and bodybuilder. Talk about how EMSculpt tightened her abs and made a HUGE impact on her core strength; she has significantly increased the number of decline crunches that she can perform!
Call us today (404) 410-7777 or schedule a consultation online to learn more about EMSculpt NEO at Slim Studio Atlanta.