Wedding photos last forever, and you'll always want to look back at your special day knowing that you were absolutely gorgeous in your dress. If you're in the wedding countdown, you may be a bit worried if the fit isn't perfect. However, you're in luck! The new best-kept secret to wedding dress prep is CoolSculpting! Coolsculpting is a non-surgical treatment that freezes and eliminates unwanted fat with no surgery and no downtime. Here are a few tips to help you on your journey to fabulous. No dress alterations required!
Eat, But Eat Better
Okay, yes, no one wants to diet. Furthermore, not all diets work. We suggest not to go on a crash or fad diet, but to be mindful of what you are putting into your body. Let's be sensible; a good choice is to reduce carbs and sugar while increasing protein intake.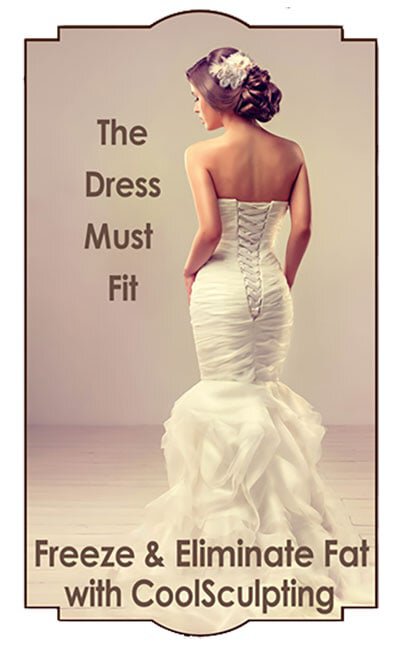 Move it to Lose it
Don't like the conventional gym workout? We get it. There are so many ways to burn calories that don't include sweaty gym equipment. We suggest hiking, riding bikes and swimming – indoors or out. Grab your fiancé and go for long walks, or take up ballroom dancing. Pick up your racquet and hit the courts for a game of tennis. Exercise can be fun; you just need to find what's right for you!
Lose and Lift
If you do enjoy going to the gym, that's fantastic! A lower body fat percentage and higher muscle mass will give you a toned look. Lifting low weight dumbells with high repetitions can affect these areas. Focus on areas of your body that will be highlighted in your dress. Prominently featured in a sleeveless gown are the arms, the bra line, the back and that area that fat collects around your cami strap. If the dress is form fitting (and most are!), you will want to flatten your abdomen and reduce your flanks. You can address all of these areas and more with the secret weapon to the best fitting gown… CoolSculpting!
Your Secret Weapon ….Freeze the Fat!
Coolsculpting is an excellent addition to your diet and exercise regime by reducing your problem areas by up to twenty-five percent. The treatment is quick, and there is no recovery period. You may be able to see results as early as three weeks! You won't have any downtime, so you can immediately return to your wedding prep activities. Coolsculpting can be a life-saver for that walk down the aisle! The benefits will also pay off post-nuptials in those Instagram-worthy honeymoon pictures!
By Brook Restucher