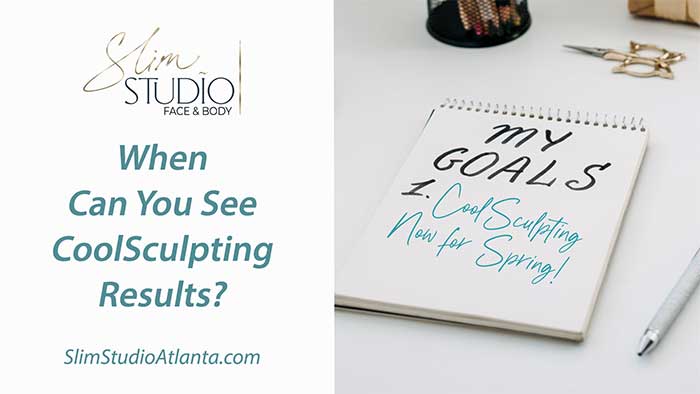 The time right after the holidays is ripe with good intentions and resolutions. While you clear out the clutter and download workout plans, you're also likely making grand plans for your health and fitness. While you make time to pursue your new year's goals, stay calm; most weight loss and fitness resolutions don't make it past the first month of the new year! With the extra layers of cozy winter sweaters and flannels, now is the perfect time to start a fat-busting plan that we know gets results.
CoolSculpting should be at the top of your list for 2023! With only 35-minute treatment sessions, anyone can fit this fat-melting method into their busy schedule.
As Atlanta's premier and Georgia's #1 CoolSculpting provider, Slim Studio Face & Body's experienced and certified body contouring professionals are experts in helping you lose unwanted fat in the new year. We've worked with hundreds of all body shapes and sizes to sculpt our clients' physiques, and they love their results! However, we also know that even when our clients have the time to dedicate themselves to a diet and exercise plan, they may still have stubborn fat that won't budge. Enter CoolSculpting, the fantastic, non-invasive body sculpting procedure that can lead you to a slimmer body and a look you'll love.
January is the perfect time to get started on a plan that we know gets results. The consensus among RealSelf members, a popular aesthetic sourcing site, is that CoolSculpting is worth it, and clients saw a significant improvement. The key to success is maintaining weight with regular exercise and healthy eating. Don't let your new year's resolutions fizzle out like old champagne; these cold months are ideal for prepping your body for spring and summer. Use CoolSculpting to ignite your fat loss, so you can be inspired to keep going.
Does CoolSculpting Really Work?
We have seen it ALL at Slim Studio Face & Body and have confidence that this effective, non-surgical solution will get you feeling fit and fabulous! CoolSculpting is a non-invasive, FDA-approved, body-slimming treatment that easily fits your schedule. While body contouring technologies have boomed, the non-invasive CoolSculpting treatment still reigns supreme among all alternative devices.
Created by Harvard scientists to eliminate fat cells that resist diet and exercise, CoolSculpting freezes these cells, which makes them die, and then the body naturally eliminates them. This treatment reduces fat in the abdomen, love handles, thighs, below the glutes, arms, and double chin. Because the body eliminates the fat cells over time, it makes sense to get started right away so you're ready for spring! The dynamic CoolSculpting technology works on your fat cells while you read, rest, and relax...effortlessly making your new year's body sculpting goals a reality.
Who Is a Candidate for CoolSculpting?
CoolSculpting delivers results to patients who are not interested in a surgical option like liposuction but want a boost to their diet and workout regime. It is an excellent option for both men & women with trouble spots that have plateaued with just diet & exercise. The process works best for those who are not obese but want to get rid of bulges, muffin tops, or pockets of stubborn fat. If you are near your ideal weight and committed to maintaining a lighter, tighter body through healthy habits, you're ready for CoolSculpting. After following a good diet and exercise regime, you can also use this treatment as a "motivator" to expedite your plans to slim down or as the finishing touch.
CoolSculpting: The Process
After your initial evaluation, the Slim Studio Face & Body experts will develop a customized treatment plan to combat your troublesome areas. Treatments typically take one to three hours; the only requirement is sitting still. You can read, text, talk on the phone, watch videos, or just rest and relax! The results will be lasting, providing that you maintain your weight. Healthy eating and regular exercise are helpful after a CoolSculpting procedure, and your new body image will help you stay motivated. Our patients with the best results use CoolSculpting as a jump start to keeping up with a new health and fitness regime.
How Soon Will I See Results After Cool Sculpting?
People want to know how soon they will see results from their CoolSculpting treatment. Most people will begin seeing results at about six weeks, and they will see the most change in results of CoolSculpting in weeks 4-9. Then the patients will receive the final results from CoolSculpting in 12 weeks. At Slim Studio Face & Body, we've heard from many patients that their results continue to present in the fourth month.
You're Worth It!
Invest in yourself with CoolSculpting now and let our comfortable and luxurious center be your respite during the chilly winter season. If you've got big body goals in the new year, Slim Studio will help keep you looking great and feeling your best! Reach out to us to experience the exquisite environment at Slim Studio Face & Body by calling (404) 410-7777 or contacting us here.